Wise Referral Promo
A cheaper, faster way to send money abroad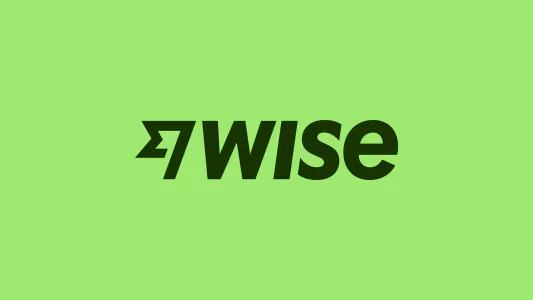 Sign up with Wise (formerly TransferWise) via the referral link and enjoy a fee-free transfer of up to 900 SGD. This will either remove or reduce the fee on your first transfer.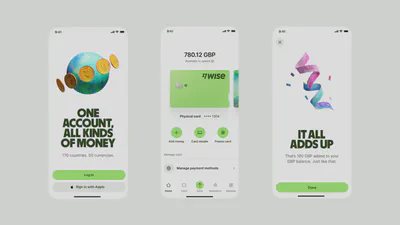 Table of Contents
About Wise
Wise (originally TransferWise) was launched in 2011 with the vision of making international money transfers cheap, fair, and simple. It is headquartered in the UK and listed on the London Stock Exchange (LSE) since July 2021.
Today, their multi-currency account helps millions (>16 million as of 2023) of people and businesses manage their money across the world.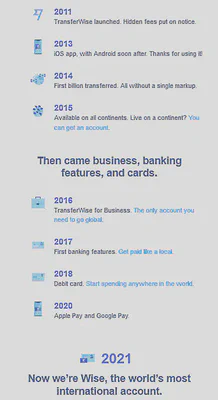 Presence in Singapore
Singapore has been the APAC hub of Wise since 2016. In October 2022, Wise announced that it will expand its team to employ over 400 staff in Singapore, doubling its headcount since the start of the year.
Why should I use Wise?
Established market player
Join over 13 million people who choose Wise for fast and secure online money transfers.
Wise is an established player in the industry and has been around since 2011.
Good service reviews
TrustPilot: Wise

verified company
rated 4.5 out of 5 from 158,349 reviews [Jun 2022]
"We charge as little as possible, and we always show you upfront. No hidden fees. No bad exchange rates. No surprises."
Wise has an attractive and easy to use GUI that allows users to compare rates with competitors.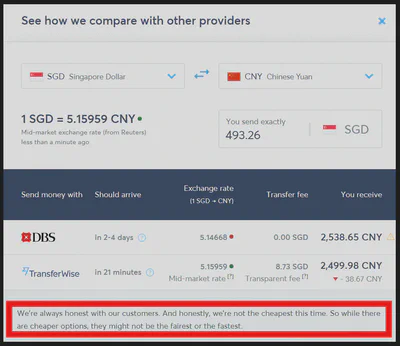 The average fee is ~0.65% (as of April 2023), a fraction of what banks typically charge.
Regulated by the Monetary Authority of Singapore (MAS)
Wise Asia-Pacific Pte Ltd is regulated as a Major Payment Institution by The Monetary Authority of Singapore (MAS) license: PS20200413
Social login
You can conveniently login with Apple, Facebook or Google accounts. Wise also has 2FA authorization implemented to improve security.
Easier SGD transfers and top-ups with PayNow
Just scan a QR code to pre-fill your details anytime you want to transfer or top up your Singaporean dollars.
Receive SGD via PayNow
Wise assigns users a unique PayNow QR code and PayNow reference. Users can share these details to get paid in SGD conveniently, instantaneously, and with zero fees.
This was launched in April 2023 and I was quite perplexed initially. Why would I use Wise's PayNow service instead of the usual PayNow everyone is accustomed to using?
The answer is because with Wise's PayNow, we can receive money without giving out personal information like bank account details, mobile number or NRIC number.
Ecosystem
Personal Users
Wise Account (Personal)
Free multi-currency account that can hold 50+ currencies
If you are a digital nomad or freelancer who works regularly with international clients, consider Wise if need to receive money from abroad. With the multi-currency account, you can get free local bank account details in Singapore, US, Eurozone, UK, Australia, New Zealand, Turkey, Hungary and Romania. It's a great tool for sending and receiving money internationally with low fees — much cheaper than banks.
Interest bearing
Depending on the currency, Wise has the option for Singapore customers to hold their balances in:
cash
interest earning fund (e.g. through government-back assets, short term loans to large corporations)
stocks via a fund
There are no limits to the amount that can be held.
The amortised annualised yield as of 30 Aug 2023 is 3.67% after fees. Some notes about the yield:
yield is variable and can go up or down
growth is not guaranteed and capital may be at risk
there is an annual fee of 0.5% (0.25% service fee, 0.25% fund management fee)
fund manager is "Lion Global Investors Ltd" and fund name is "LionGlobal SGD Money Market Fund SGD Class A"
Wise Debit Card (Mastercard or VISA debit card)
Spend in any currency and have money converted at the mid-market rate
You can apply for a debit card to link to your Wise account. It is particularly useful for overseas travelling and online shopping.
The Wise debit card proved useful when I made cryptocurrency purchases on Gemini Cryptocurrency Exchange. Not sure about now, but sometime back in 2020, Gemini only accepted debit cards and not credit cards and I was having issues verifying my Singapore bank issued debit cards. Thankfully, the debit card issued by Wise worked well.
My first Wise debit card was a MasterCard but when it expired, the new one issued to me in August 2022 was from Visa.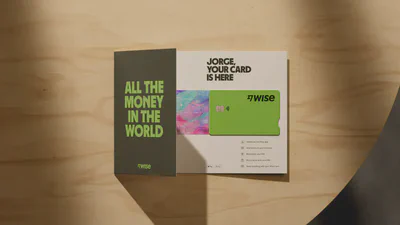 Business Users
Wise Account (Business)
"Everything you need to grow your business and operate internationally — without the high fees, hefty admin, and headache of a local bank."
With a Wise Business Account, businesses can:
Pay invoices with the real exchange rate in 70+ countries from phone or app.

50% of payments are instant or arrive in an hour.

Pay employees on international payroll in one click.
Enjoy multi-currency banking without the bank

get an IBAN, routing number and sort code for the account.

Receive multiple currencies without high recipient or conversion fees.

convert or move money within Wise Business or withdraw to external accounts with ease.

issue debit cards for business expenses

pay expenses online or in-store without foreign transaction fees.
issue cards for the team, and monitor spending right from phone or app.

Move money between accounts in seconds.
International money transfers
Send an international money transfer from one bank account to another. 57% of transfers arrive in under 20 seconds!
Wise supports 1600+ currency routes and is available in 70+ countries. Common use cases are:
expats sending money to their home country
travellers paying for tours, retreats or pre-funding their trip
international students paying for their tuition
people living in multiple countries paying rent or mortgages abroad
Remitting monies to China via AliPay
Send Chinese yuan the cheaper and faster way. Set up your transfer, send it to Alipay, and that's it — your money should arrive instantly. Say bye bye to bank details and hello to Alipay ID.
Other than UnionPay, you can now send from 17 currencies to your recipient's AliPay ID in China which goes directly into their linked bank account on their AliPay. AliPay has 800 million users in China so it is widely supported. Also, the monies will be reflected in the recipient's linked bank account in seconds.
This should be a very convenient way to pay your goods suppliers in China.
Watch the video to learn more:
Send funds to mobile wallets
Wise announced in 2023 that it is enabling customers to send funds to 11 more mobile wallets in Asia, including:
Touch n Go in Malaysia
GrabPay in the Philippines
ShopeePay in Indonesia
…
Send and receive with a searchable profile
Users can make their email or phone number searchable in Wise, so friends can easily find their profile and transfer funds.
Assets
In November 2022, Wise announced that it has received a Capital Markets Services license from the Monetary Authority of Singapore (MAS), allowing it to introduce its new investment product, Assets, to the country.
"We're excited to have secured the license as our first step towards bringing Assets to Wise customers in Singapore, making this the first location outside Europe where we'll be offering this product." - Nilan Peiris, Chief Product Officer, Wise.
Assets gives Wise business and personal customers control over how their money is held, and potentially earn a return on their money in >50 currencies.
Unlike money held in traditional investment accounts, Assets gives customers access to the majority of their money, meaning they can hold their balance in Assets, and still spend and send the money when they need it.
PSA: Beware of illegal activities
Keep your account safe. Never facilitate fraud and money laundering by being a money mule.
Stay away from deals offering to purchase your account.
Never let someone else access or watch you access your account.
Don't make payments on behalf of another person.
Never share login details of your account with someone else.