Webull Singapore Referral Promotion + Review
Enjoy Tech. Enjoy Investing.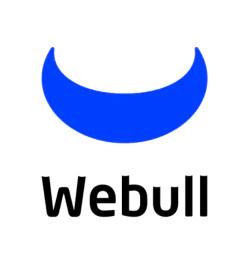 Promotion period: till 30 Nov 2023 15:59 SGT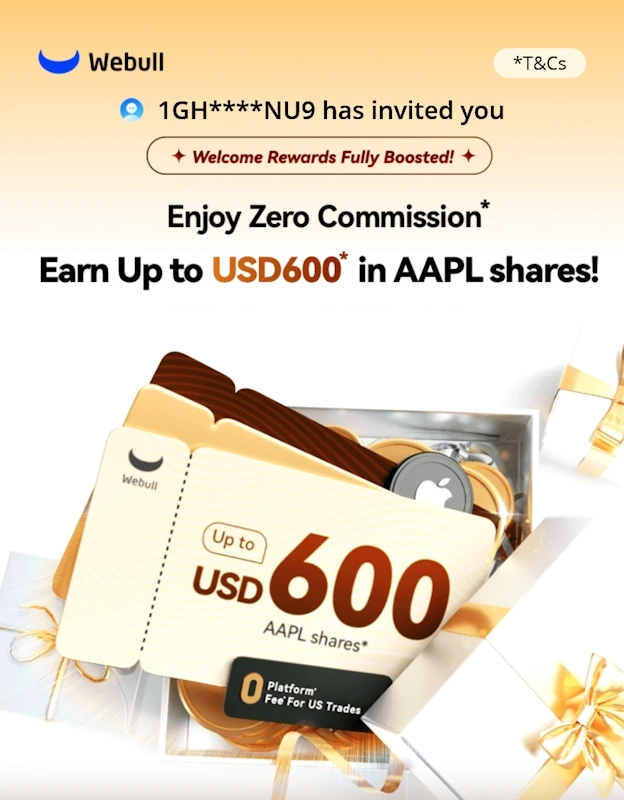 Sign up with Webull Singapore and stand to receive:
Up to USD5000 worth of free shares
Up to USD2000 worth of cash vouchers
1 month of commission free ETF and US stock trades
Terms and conditions apply.
PDF guide: How to Open an Webull Account and and deposit money
Note: The referral link shared here is only for Singapore based clients signing up with Webull Singapore.
IMPORTANT! PLEASE READ
1. Disable pop-up and ad blockers
After you click on "Sign Up" from the Webull sign up page, you should see a form to sign up with your mobile number. If you do not see it, try using a different web browser or disable your pop-up and ad blockers.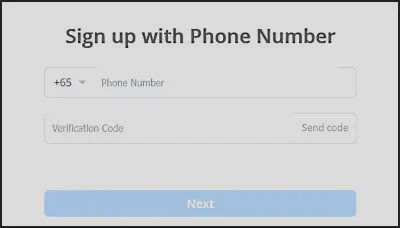 Table of Contents
About Webull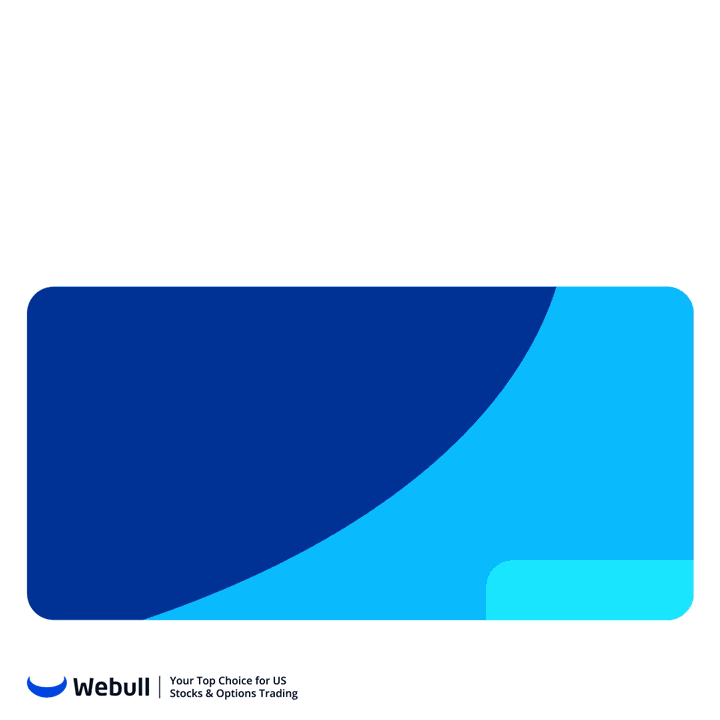 Webull is a fast-growing global FinTech online brokerage with over 20 million app downloads! Enjoy real-time free market data, 0 commissions, 0 platform fees and 0 membership fees for US stock trading.
Founded in 2017, Webull Financial LLC is a Chinese-owned stockbroker headquartered in New York. It is owned by Fumi Technology, a Chinese holding company that has received backing from Xiaomi, Shunwei Capital, and other private equity investors in China.
In May 2022, Webull launched in Singapore and operates under Webull Securities (Singapore) Pte. Ltd. ("Webull") (UEN: 202116981M), a Capital Markets Services Licence holder under the Securities and Futures Act 2001, licensed and regulated by the Monetary Authority of Singapore.
As of May 2023, Webull has over 35 million global users.
Webull aims to expand and serve the Asia Pacific (APAC) region, starting with Singapore as their APAC Regional Headquarters.
Accolades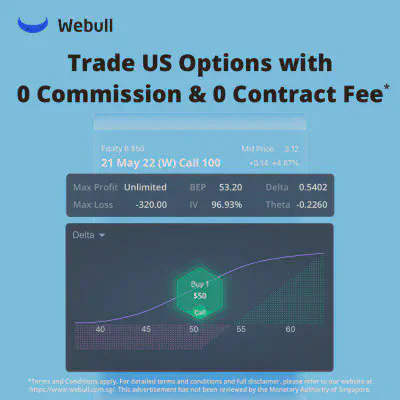 Investopedia: Best Broker for Low-Cost Options Trading (2022)

"Webull has offered some of the lowest cost options strategies in the industry, alongside a robust set of tools at no cost to its customers. As one of the lowest-cost brokers around, Webull stands out for extending affordability into the options market."

#1 Financial app in App Store
Need reasons to choose Webull?
All-in-one self-directed investment platform
The Webull investment platform provides a quality user experience with advanced tools and services.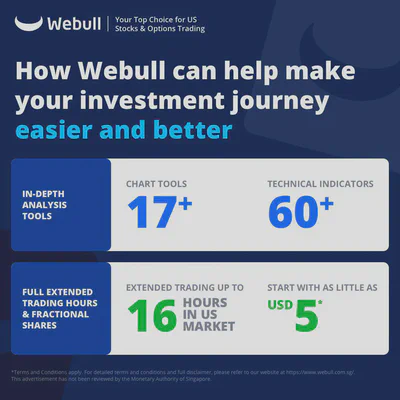 Key features include:
true zero commission
fractional shares trading
free real-time quotes

NASDAQ TotalView and NBBO quotes to help investors better understand the market's demand and supply

full extended hours trading

16 hours of trading in US market hours

24/7 in-app help centre
analysis and trading tools

intuitive charting tools on the Webull App allow investors to analyse and tap into investment opportunities.
Licensed by MAS
Webull Securities (Singapore) Pte. Ltd is regulated by the Monetary Authority of Singapore (MAS).
Low trading commissions
Latest information can be found here.
Webull Community
Webull Singapore will create a community for like-minded investors, educating and empowering them with the best-in-class tools and information to make better investment decisions.
Trading Features
Fractional shares trading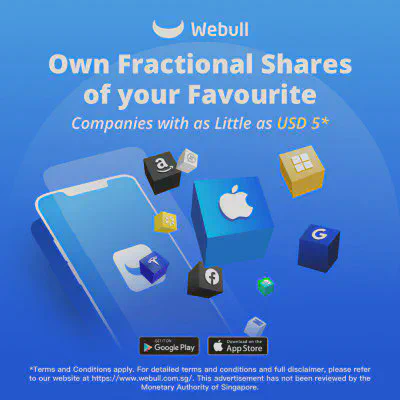 Fractional shares trading is a useful feature not every brokerage offers. It allows investors to invest in expensive stocks without being overweight on the particular ticker.
Webull supports fraction shares trading from as low as 5 USD.
Options
Covered Call and Covered Put Options
Covered Call and Covered Put Options help investors manage risk by potentially reducing losses if executed correctly. Learn more.
Index Options
Index Options allow investors to trade options on an entire market index to seek either profit or protection from price movements in that market. Learn more about Index Options from Webull's education micro-site.
Mutual funds trading
Mutual funds trading was added to Webull in December 2022. The offering is broadly categorised into:
Cash Funds
Equity Funds
Fixed Income Funds
Multi Asset Funds
What are Mutual Funds?

A mutual fund is a professionally managed investment vehicle, and the portfolio can consist of various asset classes like stocks, bonds and/or other financial assets.

Mutual funds allow individual investors to access a portfolio of various assets without actually owning all the securities in the portfolio the fund invests in.

It also provides investors with diversification and is usually categorised into different themes or investment objectives.
Learn more about Mutual Funds from Webull's education micro-site.
Regular Savings Plan
This feature came live in May 2023. Regular Savings Plan is a systematic way of saving by constantly investing in Stocks, ETFs and Mutual Funds of your choice to average out the rise and fall of the market.
The RSP feature currently supports: Regular Savings Plan currently supports:
US-listed Stocks
US-listed ETFs
SGD & USD Mutual Funds
To setup:
RSP: Account > RSP card > Search target
For US Stocks/ETFs: RSP card at counter page or 3 dots button > RSP
For Mutual Funds: RSP button at counter page
Learn more about Regular Savings Plan at Webull Singapore.
Take-Profit/Stop-Loss Orders
A new feature added to the Webull trading platform in January 2023.
A Take-Profit/Stop-Loss order is used to exit an existing position and can only be placed during regular trading hours.
A Take-Profit order is used to protect profit on an existing position once the stock reaches a specified price. It is filled as a limit order when triggered.
A Stop-Loss order is designed to prevent further losses on the existing position once the stock reaches a specified price and is filled as a market order.
Notes:
It is possible that a Stop-Loss order may be filled at a price much different from the pre-determined price, especially in a volatile market
A target price should be set in both Take-Profit Orders and Stop-Loss Orders. When one of them is filled, the other is automatically cancelled.
Learn more about Take-Profit/Stop-Loss Orders from Webull's education micro-site.
Experience sharing
How to register and open a Webull account
Step 1: Clicking on the referral link will open the Webull registration page in a browser window.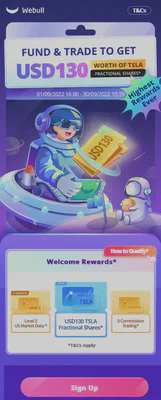 After you click on "Sign Up" from the Webull sign up page, you should see a form to sign up with your mobile number. If you do not see it, try using a different web browser or disable your pop-up and ad blockers.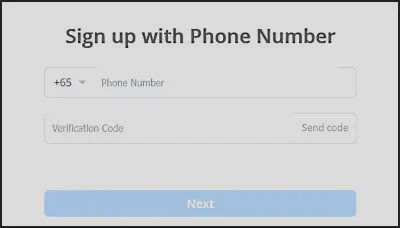 Proceed to register for a Webull account using your mobile number.
Registering simply provides you with login capabilities to the Webull app platform. Your trading account is not opened yet at this point of time.
Step 2: Download the Webull app and login with the account created in the previous step.
Step 3: Within the Webull app, select "Open Account" (middle tab at the bottom of the screen), and follow the steps.
I logged into SingPass MyInfo to autofill some parts of the forms.
the entire process of filling up the forms took about 10 minutes.
I tried to omit my company name and occupation details but those fields were mandatory.
After completing the above steps, Webull will review the account opening application.
How long does account opening approval take?
I submitted my account opening request on 20 May 2022 (Sat) @ 23:00 PM, and my account was approved on 21 May 2022 (Sun) @ 1:40 PM.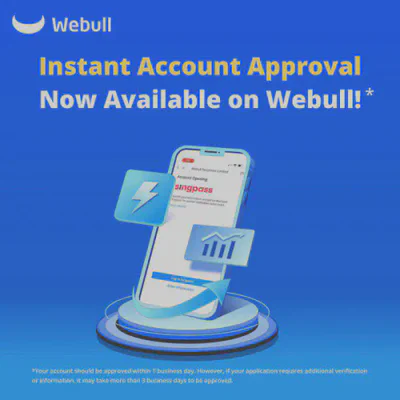 Funding your Webull account
After your account is approved, the middle tab at the bottom of the screen will be replaced by a Webull logo. Tap on it and follow the instructions to set a trading password. The trading password is a 6 digit PIN.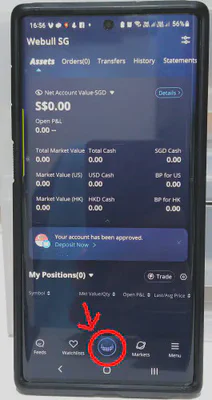 After setting your trading password, you will be able to fund your account.
Funding options are:
eDDA Deposit (recommended)

for SGD (zero charges)
links your Webull account to a bank account to allow direct debit via eGiro. Banks supported are:

Bank of China
DBS
ICBC
Maybank
OCBC
Standard Chartered
UOB

FAST
Telegraphic Transfer (TT)
I used the recommended option of eDDA. Following the on-screen instructions, I logged in to my DBS internet banking to set up the eGiro arrangement.
After the eGiro was set up, I managed to fund my Webull account within seconds.
Notes
NBA Brooklyn Nets sponsor
Did you know that Webull is the official jersey patch partner for the Brooklyn Nets beginning with the 2021-2022 NBA season?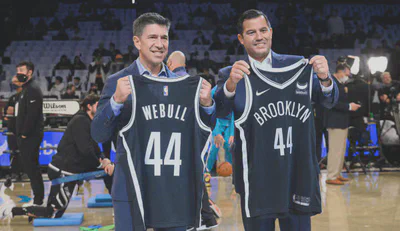 No trading support for Singapore market (SGX)
As of launch date in May 2022, Webull does not support trading in the Singapore market (SGX). Hopefully they will add this capability soon.
Responsive 'Help Center'
From my experiences in May 2022, the 'Help Center' responded to my queries within an hour which I feel is pretty good.
Webull Desktop App
In September 2022, Webull launched its Webull Desktop App. As an alternative to the mobile app for users who prefer the big screen, it offers:
A fully customisable trading experience
Powerful, easy-to-use trading widgets
Flexible charting tools
Educate yourself on investing
I would strongly recommend you register a FREE account with SGX's Online Education Programme and complete the basic courses first if you are new to investing.
Staying safe from scammers
Be wary of scams that can take place in the form of online stock recommendations from unofficial sources or informal chat groups.
Scammers might impersonate real people from genuine financial services firms to tempt you into investing in any recommended stocks/investment products. Some scammers might use spoofed or unofficial social media accounts to spread and disseminate false information.
You can protect yourself and others by observing the following:
Change your privacy setting in your messaging apps to prevent others from adding you to random investment chat groups.
Be wary of stock tips/ recommendations from unofficial sources (e.g. Social Media platforms/Messaging App)
Do your research before investing in any investment product
Check the credentials of the supposed company or representatives using sources such as MAS Financial Institutions Directory, Register of representatives and Investor Alert List.
Disclaimer
All investments involve risks and are not suitable for every investor. The value of securities may fluctuate and as a result, clients may lose more than their original investment.
Margin trading increases the risk of loss and clients' losses may exceed the deposits placed. The past performance of a security or financial product does not guarantee future results or returns.
Keep in mind that while diversification may help spread risk it does not assure a profit, or protect against the loss, in a down market.
There is always the potential of losing money when you invest in securities or other financial products. Investors should consider their investment objectives and risks carefully before investing.
Any reward including shares, fractional or otherwise, which are received via any promotion campaign does not constitute as an invitation, inducement, recommendation, suggestion, or solicitation to investing.