uSMART Invitation Code: uuw2 (Referral Promotion)
Your Next Generation Broker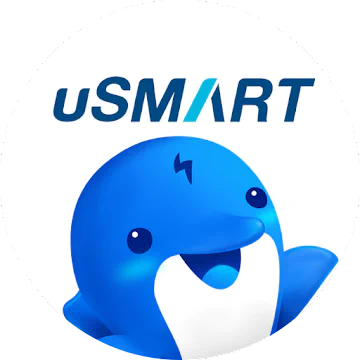 Promotion Period: to 31 Dec 2023 23:59:59 (GMT +8)
Open an account with uSMART via the invitation code: uuw2 or referral link, and receive welcome gifts of up to USD $12 in cash vouchers.
Terms and conditions apply.
PLEASE READ. SUPER IMPORTANT!
In the last step of account opening, you need to specify what type of account to create.
uSMART Trader accounts are NOT ELIGIBLE for the 'Welcome Gifts', so choose wisely accordingly to your requirements.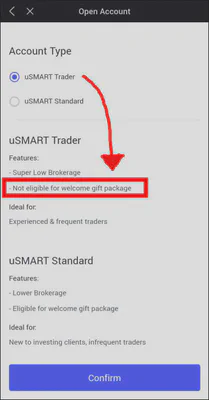 Table of Contents
About uSMART
uSMART Securities, the leading online brokerage firm for intelligent investment, aims to provide professional Smart Investment experience via innovative technology to our clients globally.
Founded in December 2018, uSMART Group, along with headquarters in Singapore, Hong Kong, China and New Zealand, has a strong global workforce of 400+, with more than half in the product and development teams.
It operates in Singapore under USMART SECURITIES (SINGAPORE) PTE. LTD (UEN: 202110113K)
Investors
uSMART Securities is backed by a strong group of shareholders including notably, the Chow Tai Fok group which is one of the largest conglomerate based in Hong Kong.
Licensing
USMART SECURITIES (SINGAPORE) PTE. LTD is licensed by the Monetary Authority of Singapore. See license information.
Apart from Singapore, it is also licensed by The Securities and Futures Commission of Hong Kong for Type 1, 4 and 9 regulated activities, and is a Financial Service Provider under the Financial Service Providers Act 2008 in New Zealand.
Commissions and fees pricing
Information can be found here.
ZERO COMMISSIONS for US options and index options trading
From 1 October 2023, clients opening uSMART options account can benefit from ZERO COMMISSIONS for US options and index options trading.
Only a US$0.3 per contract platform fee will be charged, and no minimum charge for options trading!
Promotion Period: 1 October 2023 00:00 - 31 March 2024 23:59:59 (Singapore time)
Who is eligible for Zero Commissions Options Trading?
Existing uSMART SG brokerage account holders who have not yet opened a uSMART options account.
New users who have not opened a brokerage account with uSMART SG.
Notes:
Zero commission options trading is applicable to all eligible clients of uSMART SG.
While zero commission is for all eligible clients, platform fee vary for different uSMART account types.
For clients from Mainland China, Hong Kong, and Macao, the platform fee is US$0.5 per contract, while other eligible customers have a platform fee of US$0.3 per contract.
The promotion for no minimum charge for options trading is valid until 31 December 2023, 23:59:59 (Singapore time)
Reasons to choose uSMART
Diversified products
Access Global Markets & Products with the most competitive rates.
Education content
The uSMART app's 'Learning' tab features a series of materials like video courses and chatrooms where you can chat with financial experts.
Forex CFD Trading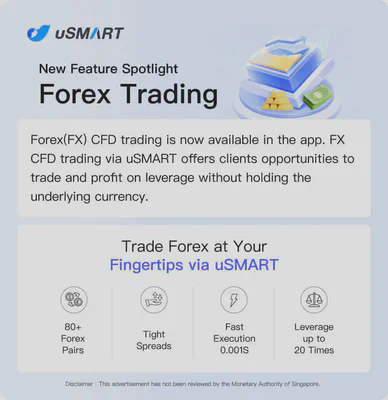 Funds Security
Safety of Assets - Funds and holdings are held in segregated accounts with reputable custodians.
Futures Trading
Clients have access to over 100 futures contracts with real-time futures quotes, including stock index, metals, commodities, forex, energy, agriculture and more.
Initial Public Offering (IPO) access
Users can view available IPOs on offer in: "uSMART (SG) APP > Trade > More > IPO"
Licensed by MAS
Regulated by the Monetary Authority of Singapore (MAS).
Smart Investment
Smart Investment Strategies with analysis & indicators driven by big-data.
Experience sharing
Ease of Account Creation
First of all, take note that 'registering a login account' and 'opening a trading account' are two separate matters.
Step 1: Registering a login account:
use a mobile number to sign up with uSMART
Step 2: Opening a trading account:
after registering an account, download the uSMART app and login.
select the option to "Open Account"
opening an account requires entering personal particulars and trading experience manually, or via Singpass MyInfo.
take extra caution when selecting the account type to create to avoid missing out on the welcome gifts.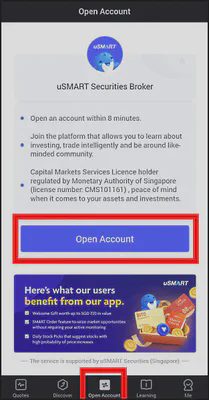 I created my account in April 2022 and was impressed by the ease of opening an account. I skipped filling up personal particulars via SingPass MyInfo.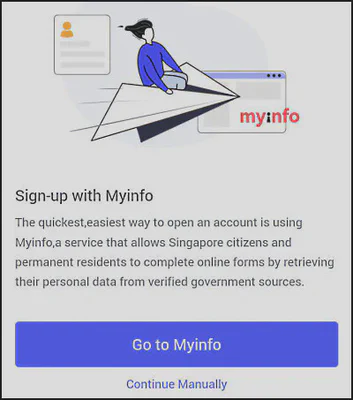 The whole process took probably 7-8 minutes. I submitted my application to open an account in the evening and it was approved within the hour.
Funding
eGIRO
The easiest way is to link your bank account through the eGIRO feature.
If you use the PayNow or FAST option, remember to tap on the "Transferred. Notify uSMART" button at the bottom of the app to provide additional information like the account number, deposit amount and a transaction screenshot. I did not do this and the funds did not get deposited.
It was only a couple of days later that a customer service officer called me up and informed me that I needed to submit these information for the deposit to go through.
Wise
In March 2023, uSMART announced integration with Wise in uSMART app. This allows investors to fund investments to uSMART in different currencies easier.
Best FX rates from SGD to USD
I observed that uSMART Securities edges the competition slightly in terms of the FX rates from SGD to USD. [May 2022]
Educate yourself on investing
I would strongly recommend you register a FREE account with SGX's Online Education Programme and complete the basic courses first if you are new to investing.
Staying safe from scammers
Be wary of scams that can take place in the form of online stock recommendations from unofficial sources or informal chat groups.
Scammers might impersonate real people from genuine financial services firms to tempt you into investing in any recommended stocks/investment products. Some scammers might use spoofed or unofficial social media accounts to spread and disseminate false information.
You can protect yourself and others by observing the following:
Change your privacy setting in your messaging apps to prevent others from adding you to random investment chat groups.
Be wary of stock tips/ recommendations from unofficial sources (e.g. Social Media platforms/Messaging App)
Do your research before investing in any investment product
Check the credentials of the supposed company or representatives using sources such as MAS Financial Institutions Directory, Register of representatives and Investor Alert List.