Trust Bank Referral Code: NV68VTDE and Usage Tips (by Standard Chartered and FairPrice Group)
Banking made transparent, easy and rewarding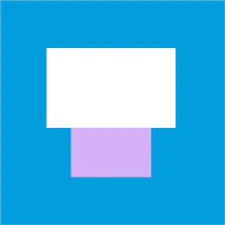 Validity: till 31 Dec 2023
Sign up for Trust with the referral code: RF4AH5E0, and get a S$10 FairPrice E-Voucher. Terms and conditions apply.
Please note that if you do not enter a referral code, you will only receive a $25 FairPrice E-Voucher. Entering a referral code gives you a bonus $10 FairPrice E-Voucher!
Also receive:
an additional S$25 FairPrice E-Voucher as a sign-up reward
a free Merci Finest Selection European Chocolates 250g (campaign ends 31 Dec 2023)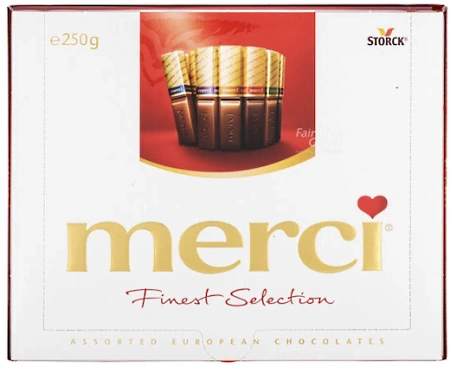 Also get 1 chance to win an iPhone 15 for every S$200 local spend or S$100 foreign currency spend in a single transaction using Trust card. From 1 Dec to 31 Dec 2023 only. Trust is giving out 200x iPhone 15 in total!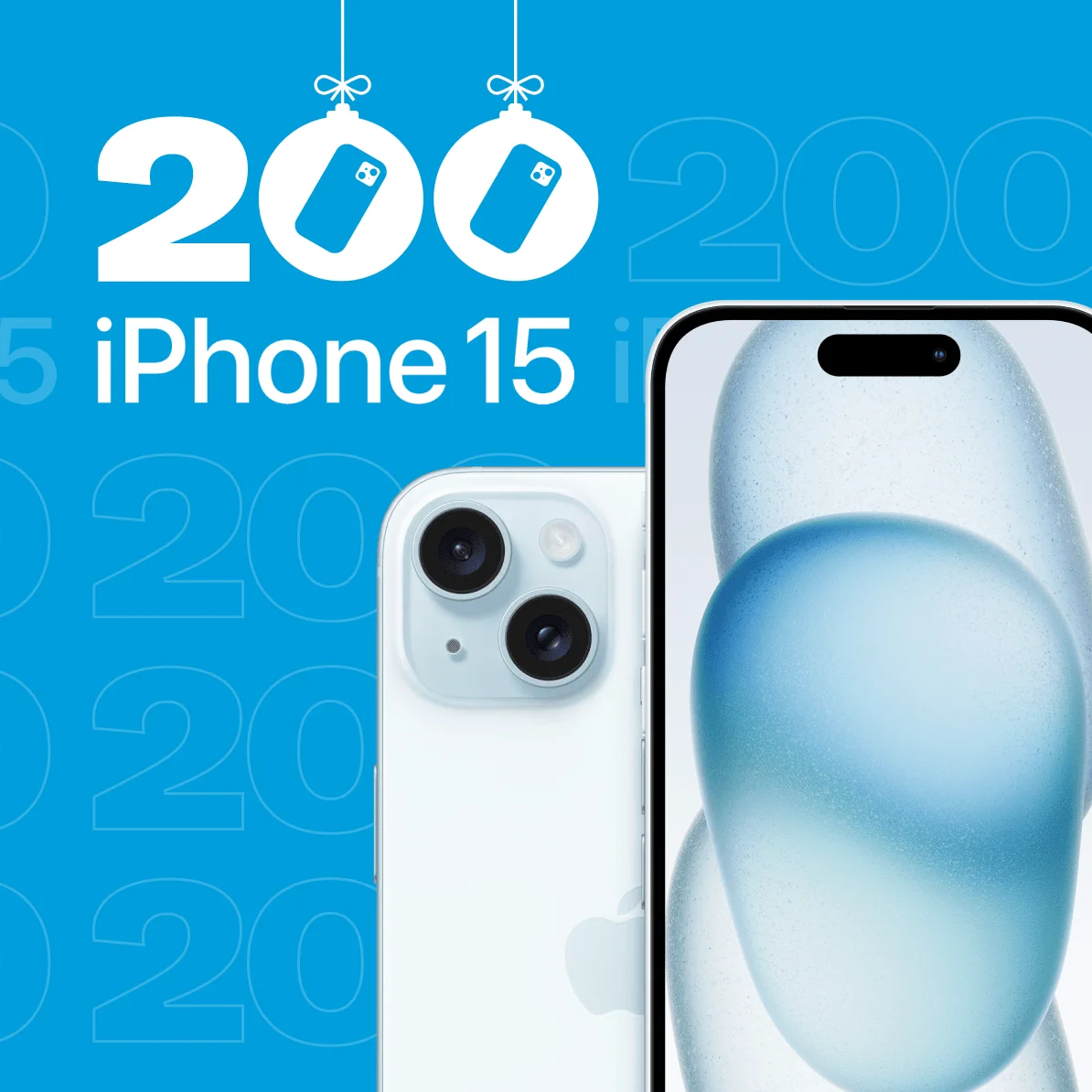 Table of Contents
About Trust Bank
"Trust is designed and built to operate entirely on your mobile phone, using the latest and best technology. We focus on digitising as many of the traditional processes as possible, we don't have any branches and we operate 24/7."
Trust Bank, a digital bank backed by Standard Chartered and FairPrice Group, announced its launch in Singapore 1 September 2022.
What is a digital bank?

A digital bank (also known as neobank or virtual bank), offer services that one can expect from conventional banks, such as accepting deposits, loans, facilitating payments and loans, except that these will be performed online as digital banks do not have physical branches.
It is 60 per cent owned by Standard Chartered and 40 per cent by NTUC's enterprise arm, obtained a full bank licence in December 2020. The bank's shareholders have invested about US$400 million.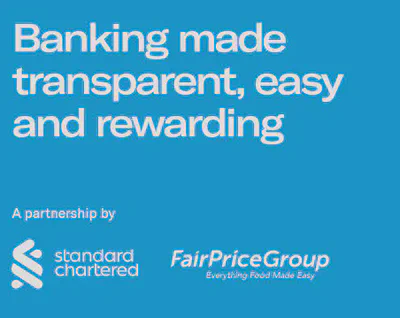 For a start, it is rolling out a range of products including a savings account, family personal accident insurance, and a "numberless" card that allows customers to choose their repayment date.
At launch, the digital bank entrant has ~200 full-time employees and intends to hire more as it expands its products and services.
Wildly successful launch in Singapore
Trust announced that it has reached 100,000 customers in just 13 days since its launch on 1 September 2022. Sign-ups were received from a diverse range of users aged 18 to over 90.
This can be attributed to their effective marketing strategy and solid credentials of the digital bank's backers.
By March 2023, Trust has reached 500,000 customers and counting…
Core Products
Savings account
The savings account will offer a "market-leading" base rate and allow customers to earn up to 2.5 per cent of interest on their deposits.
The base rate is 1.5% p.a. on the first S$75,000 deposit, with NTUC Union Members getting to enjoy a bonus interest of 1.0 per cent when they make five eligible purchases with the bank's credit card. Non-members will enjoy a bonus interest of 0.5 per cent on the same purchases.
Dwaipayan Sadhu, chief executive of Trust, says the interest rate is a sustainable one for the bank, as it has some advantages in operating as a digital bank.
No minimum balance required
There will be no minimum balance amount for the savings account.
Numberless card
The bank's "numberless" card will offer the dual functionality of a credit and debit card. Cardholders will not have to pay fees, such as an annual fee and foreign transaction fee, and will be able to choose their repayment date.
Trust does not charge any foreign transaction/markup fees, not even the usual 1% Visa charge.
If you enroll your card for Apple Pay and/or Google Pay, you can use them for in-store purchases.
Discussion in forums mention the card cannot be added into Samsung Pay yet [1 Sep 2022]
Rewards
Get instant rewards such as coupons and stamps with your everyday spend on your everyday needs from participating merchants.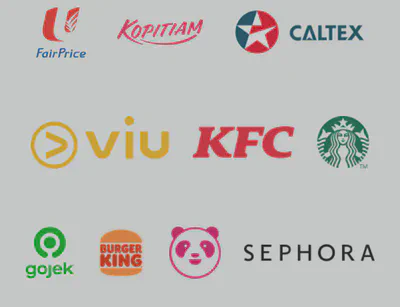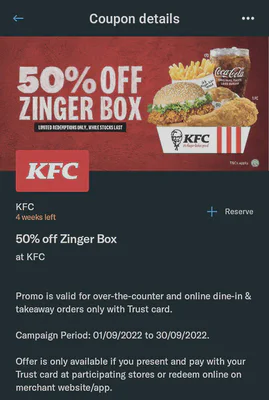 Security feature
The Trust app has a useful security feature which allows you to 'Lock' your card if it is misplaced. Simply:
Log in to the Trust App
On the card home screen, tap "View and Manage card"
Select "Lock card"
Zero foreign transaction fees
With the Trust card, users enjoy zero foreign transaction fees, not even the usual 1% charge by Visa.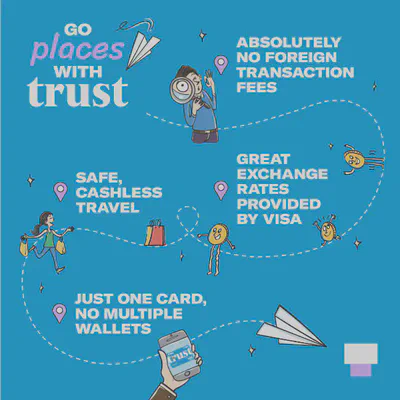 Family personal accident insurance
Trust Bank is offering a family personal accident plan which covers accidental death and permanent total disability due to an accident. This policy is underwritten and issued by Income.
The policy comes at a premium of S$0.50 per month and has no limit to the number of dependents covered. The policy will be available at no premiums for the first two months when a customer signs up for the bank's credit card.
FAQ
The complete FAQ can be found here. Listed below is a subset of some common questions.
General
Is my money safe with Trust?
Trust is regulated and supervised by the Monetary Authority of Singapore. The SGD deposits in your Savings Account by Trust are protected under the Deposit Insurance Scheme managed by the Singapore Deposit Insurance Corporation (SDIC) for up to SGD 75,000.
Can a foreigner open an account with Trust?
Foreigners residing in Singapore will need to provide the following:
To apply for a credit card, you will need copy of your passport and income documents to be uploaded.
To apply for a savings account, you will need copy of your passport details to be uploaded.
Savings Account related
Can I use an ATM to withdraw money?
Trust Bank will have its own ATMs, and there is currently one at Fairprice Vivocity. Customers can also access their accounts through Standard Chartered's ATMs across Singapore.
What is the minimum age to apply for a savings account by Trust?
18 years old and above
How do I deposit money into my savings account?
There are 2 easy ways to deposit money into your savings account:
Transfer from any bank via FAST or PayNow at no charge, or
Set up standing instructions from other bank accounts
Can I open a joint-named savings account?
For now [Sep 2022], you can open a savings account in your name only.
Personal experience sharing
Signing up
I was able to sign up using SingPass MyInfo within a few minutes on the launch date of 1 September 2022.
Video guides on application process below:
Using referral code when signing up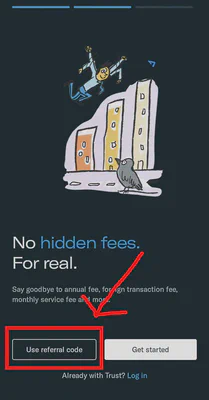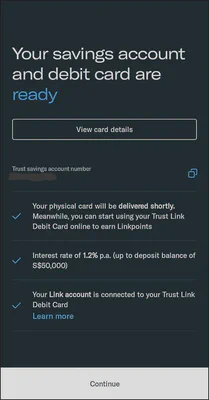 Claiming referral benefit and welcome bonuses
S$10 Fairprice E-voucher referral benefit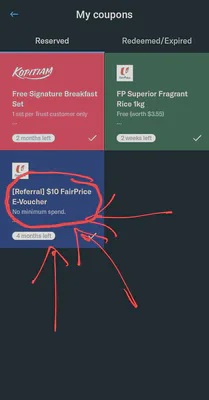 How and where to use the Fairprice E-vouchers?
The FairPrice E-Vouchers are valid at all FairPrice, FairPrice Finest, FairPrice Xtra, FairPrice Shop, Warehouse Club, Unity online and offline stores (except Changi Airport).
TIPS:
I was able to use both the S$10 and S$25 vouchers in a single transaction. Just open both coupons for the cashier to scan.
I was able to use the vouchers on my mum's and my account in a single transaction.
You can use the vouchers on the online FairPrice store by keying in voucher code manually in the payment screen.
Link points integration
You can see your NTUC Linkpoints from the Trust Bank app.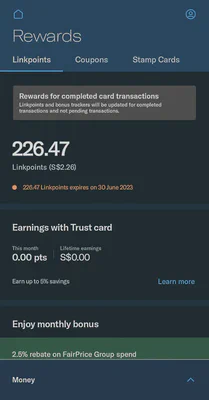 Funding a Trust Savings Account
To find out your account number and transfer details to deposit, from the Trust app:
Go to 'Money' section
'Deposit' tab
Tap on the 3 dots beside 'Send Money'
Select 'Account details'
from Standard Chartered Bank
My first deposit into my Trust Savings Account was from my savings account at Standard Chartered Bank.
I selected 'Trust Bank Singapore Limited' under the FAST transfer options and transferred $1 to test. The test deposit took around 5-10 minutes to reflect in the Trust app.
My second deposit of a larger amount was reflected instantaneously in the Trust app though.
from another Trust Savings Account
For my mother's Trust Savings Account, I added her account as a payee of my account and transferred over some funds. The transfer was instantaneous.
Adding new payees takes time to reflect in Trust app
Whenever I add a new payee, out of caution, I will send a $1 test transfer first. I noticed that after adding the new payee and making the test transfer, the Trust app takes a few minutes before the payee list is updated in the app for a second transfer to be done.
Not a big issue but still a minor inconvenience. Hopefully Trust can improve on this soon.
Receiving the physical Trust debit card
I received my card in the mailbox around 5 days after applying. It arrived in a 100% paper packaging.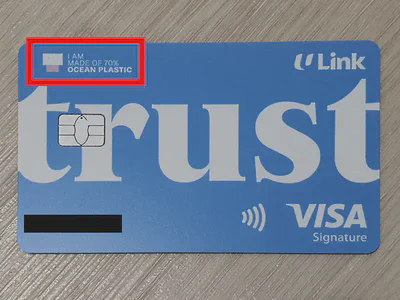 Activating the physical Trust debit card
You need to use the Trust app to activate the physical card.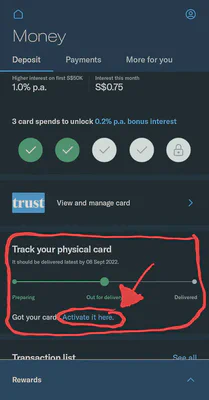 Unable to set transaction limits on the Trust debit card
There is currently no way to place transaction limits on the Trust debit card. This worries me and I am reluctant to deposit more funds into my account for fear that it might be wiped out by fraudulent debit transactions.
How to use NTUC Fairprice e-Voucher from Trust Bank app at self checkout terminal?
Using the e-Vouchers at self checkout terminals is rather non-intuitive. Refer to this separate blog post for the detailed steps.
---