Tiger Brokers SG 🇸🇬 Referral Code: SGRPTB (Site Exclusive Bonus + Review)
Start your investment journey here with Tiger Brokers!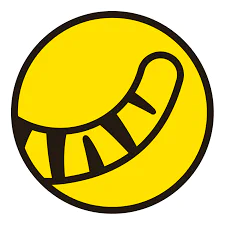 Site Exclusive Bonus for Tiger Brokers!
🇳🇿 If you are based in New Zealand, check out our exclusive deal for you here.
🇸🇬 For residents of Singapore, apart from the standard Welcome Gifts, new sign-ups referred by SgReferralPromo.com can:
receive additional SGD20 stock voucher from Tiger Brokers.
receive additional USD20 worth of Tesla shares; AND
receive additional USD50 stock voucher from Tiger Brokers.
Requirements:
For SGD20 stock voucher:

fund your account with any amount. However, we strongly recommended to fund the minimum amount required to receive the Welcome Gifts (scroll down for details) in order to receive the full set of new user benefits.

For USD20 worth of TESLA shares:

fund minimum SGD1,500 within 7 days upon first deposit

For USD50 stock voucher:
Examples

Scenario A (maximum benefits):

Fund SGD10,000 initial deposit:

receive SGD20 stock voucher site exclusive bonus
receive USD20 worth of TESLA shares site exclusive bonus
eligible for 1 Apple share (Welcome Gifts) upon fulfilling eligibility requirements

Scenario B:

Fund SGD1000 initial deposit:

receive SGD20 stock voucher site exclusive bonus
eligible for USD 30 worth of Apple + 1 sure-win draw (Welcome Gifts) upon fulfilling eligibility requirements

Fund additional SGD500 within next 7 days:

receive USD20 worth of TESLA shares site exclusive bonus

Scenario C (least benefits):

Fund SGD10 initial deposit:

receive SGD20 stock voucher site exclusive bonus
not eligible for any welcome gifts

Fund additional SGD1490 within next 7 days:

receive USD20 worth of TESLA shares site exclusive bonus
Note: This exclusive bonus offer is fulfilled by Tiger Brokers.
Welcome Gifts Promotion Period: till 26 Sep 2023 16:00 (SGT)
Sign up with Tiger Brokers via the referral code: SGRPTB or referral link and enjoy Welcome Gifts.
Tiger Brokers (Singapore) has simplified the requirements to receive Welcome Gifts! Simply complete the following tasks:
Open account:

Unlimited Commission-Free Trades for HK & SG & China A Stocks in 365 days
Unlimited Commission-Free Trades for U.S. Stocks in 180 days
Activate the auto-sweep feature on Tiger Vault and enjoy 30-day(trading days only) interest bonus boosted to 8% p.a.

Fund account and trade:

First Deposit ≥ SGD 300

USD 10 worth of Apple fractional shares (NASDAQ: AAPL)

First Deposit ≥ SGD 1,000 & complete 5 New BUY Trades Rewards

USD 30 worth of Apple fractional shares (NASDAQ: AAPL)

USD 8.8 of Starbucks fractional shares (NASDAQ: SBUX) (Mid-autumn Festival Special!)

1 sure-win draw attempt (get one free stock, valued between SGD8.8 - SGD888)

Sure-win draw
Terms and Conditions apply.
Tiger Brokers updates their welcome promotion frequently, and the most current offer will be displayed upon clicking the referral link.
VERY IMPORTANT!
The welcome benefit for funds deposit only takes into consideration the very first deposit. Take note to avoid missing out on receiving your FREE share.
Table of Contents
About Tiger Brokers (Singapore) Pte Ltd
Founded in 2014, Tiger Brokers is a fast-growing global broker-dealer listed in Nasdaq, with over 9 million registered users and global offices covering Singapore, Australia, the US, and New Zealand.
Supported by a very professional trading platform with an easy-to-navigate design and quick online account opening and funding, Tiger Brokers provides users with convenient access to global trading markets including US, HK, Singapore stocks and more.
In 2017, the company was awarded "2017 Fintech 250" by CB Insights and shortlisted for "China Leading Fintech 50" for two years in a row by KPMG China.
Tiger Brokers is backed by Interactive Brokers Group Inc, Xiaomi Inc, ZhenFund and Wall Street investment guru Jim Rogers.
Tiger Brokers has acquired over 50 licenses. In Singapore, Tiger Brokers (Singapore) Pte Ltd ("Tiger Brokers") holds a Capital Markets Services Licence under the Securities and Futures Act (Cap.289) to conduct regulated activities in Securities, Collective Investment Schemes and Exchange-traded Derivatives Contracts.
Accolades
Runner-up for Best Retail Broker Award at Investors' Choice Awards (ICA) [Oct 2022]

presented by Securities Investors Association of Singapore (SIAS)

Best Customer Service 2022/23 [Sep 2022]

survey by The Straits Times and research firm Statista
for the trading and brokerage services sub-category, under Real Estate and Banking.
Listed Company
Tiger Brokers is a listed company on NASDAQ.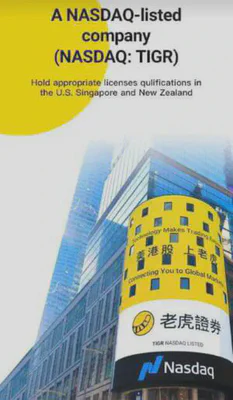 Market Access
Currently, Tiger Brokers (Singapore) supports the following markets:
Australia
China A-Shares
Hong Kong
Singapore
USA
My Review on Tiger Brokers
I have been using Tiger Brokers since 2020 with no major issues.
Ease of Account Creation
First of all, registering a login account and opening a trading account are two separate processes.
Registering a login account: use a telephone number or email to sign up with Tiger Brokers
Opening a trading account: requires entering your personal particulars and trading experience manually or via Singpass MyInfo.
I created my account in early 2020 and was impressed by the ease of opening an account. I skipped filling up personal particulars via SingPass MyInfo.
The rest of the forms were also clear, concise with the default option pre-selected on my behalf. So I only had to read through rather than clicking everywhere. The whole process took probably 15mins.
I completed my application process around midnight (Singapore time) and it got approved within 15mins later :)
I would strongly recommend you register a FREE account with SGX's Online Education Programme and complete the "SGX SIP Online Education Module (SGXSIP1)" first if you are new to investing.
You would need to enter your scores for the test if you do not meet certain investment criteria.
SingPass and social network accounts login support
You can conveniently login to Tiger Brokers with the following accounts:
SingPass
Facebook
Twitter
WeChat
Is my money safe with Tiger Brokers?
I was concerned about the safety of my assets and this is what I found.
Source: https://www.tigerbrokers.com.sg/security-n-custody
Tiger Brokers is licensed by the Monetary Authority of Singapore (MAS) and comply with section 104 of the Securities and Futures Act ("SFA").
Clients' funds and investments are kept by a segregated bank account and custodian to ensure it does not commingle with other accounts.
Investments Custody:
U.S. market: Shares, cleared and held by IBKR (Interactive Brokers), are ultimately held by DTC (Depository Trust Company).
Hong Kong market: Shares, held by IBKR (Interactive Brokers), are ultimately held by CCASS.
Singapore market: Shares, held by DBS custodian bank, are ultimately held by CDP.
Funds Custody: Clients' funds are kept in DBS commercial Bank.
Custodian fee for Singapore market from Q3/2022
A CDP sub-account will be created when when clients first place a trade on the Singapore Market. With effect from Q3/2022, Tiger Brokers (Singapore) will be implementing custodian fee charges for this CDP sub-account.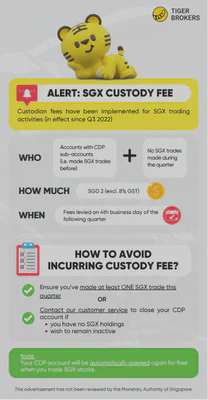 Key points:
quarterly fee of SGD 2 and prevailing GST
applicable for accounts with CDP Sub-account (traded SGX shares before) and have no SGX-related transaction during the quarter.
(Exemption) clients who have not initiated orders on any SGX investment since account opening will not be charged a custody fee.
The custodian fee is inexpensive, and is waived if a client trades at least once within the quarter in the Singapore market, so I am not overly concerned about it.
Low commission rates
Shares
Tiger Brokers offer very competitive rates for shares trading:
Trading fees comprises of more than just the commission portion. Please note there might still be platform charges, other fees and taxes applicable, which varies for different stock markets.
In May 2022, Mothership reported that in April 2022, a client sold US$5,000 worth of US penny stocks he had. Only after the trade was cleared that he found out he was charged approximately US$16,000 in settlement fees.
In the aftermath, Tiger Brokers announced settlement fees (USD 0.003/share) would be capped to 7% of the order value and refunded affected customers.
Even with the new cap in place, settlement fees can be very significant, so be extra cautious when trading penny stocks.
Options
Industry leading. Lowest US option fees. USD 0.65 per contract with no minimum charge.
I do not actively trade in options, futures and funds etc. If you are interested in these instruments, you can check out their trading fees here.
Funding of Account
As required by Singapore regulations, your funds with Tiger Brokers Singapore are held in a segregated bank account(Client Segregated Bank Account).
Tiger Brokers only accept fund deposits from bank FAST transfer or wire transfer (TT). All funding must be made from a bank account registered under the Trading Account holder's name.
DBS/POSB - DDA Deposit
The easiest and fastest way to fund the account with SGD is to link up a DBS/POSB account and directly debit from it.
Bank Transfer
Another way is to bank transfer to Tiger Broker's DBS account and indicate your account details in the Payment Reference field.
When I first tried depositing money into my Tiger Brokers account, I made a mistake of depositing SGD into their HKD account. The money was refunded back to my account after a few days.
Do take note to transfer to the correct SGD account.
Here are a couple video guides on how to fund your Tiger Brokers account:
Transferring portfolio from other brokerages
The customer service team is always available to assist users with transferring their portfolio from other brokerages into Tiger Brokers.
Example on how to transfer positions in from TD Ameritrade (Sep 2023): How to move my TD Ameritrade accounts to Tiger Brokers?
Trading on Tiger Brokers
Tiger Brokers Singapore manages a Youtube channel where they upload many useful tutorials.
Fractional share trading support
Tiger Brokers started supporting fractional share trading for S&P 500 stocks in December 2022.
Notes (as of 11 Dec 2022):
minimum purchase of USD 5
when buying less than 1 share, trading fee is 1% of the trading value, capped at USD 1
no fractional share trading during pre-market or post-market hours
Options Trading and the Tiger Options Club
The key features of options trading on Tiger Brokers are:
Lowest US option fees. USD 0.65 per contract with no minimum charge.
No exercise or assignment fee.
Flexible options strategies.
Margin discounts for combination strategies.
Multi-leg orders.
Real-time quotes, variety of trading tools and intuitive rankings
Market maker move and one-click trade for desktop application
Tiger Brokers has created a community called Tiger Options Club on Telegram. The goals are to:
Allow users to share information and experience about options trading.
Get up-to-date Tiger-related information on the latest events, feature updates, and more.
Receive market updates/insights, including earning report summaries, market analysis and much more.
Have idle funds? Consider Tiger Vault

Tiger Vault is a cash management solution that provides investors with yields of up to 2.4% (based on market conditions in July 2022) on their idle funds.
You can select from mutual funds with relatively stable returns, low risk ratings, and high liquidity in global markets to grow your money with higher yields.
Key features:
idle funds in the Prime Account will be invested in Tiger Vault to generate additional income
money in Tiger Vault will be included as Buying Power when trading
automatic repayment of financing arrears
available in SGD, USD, with HKD coming soon
Staying updated
Join the Tiger Brokers Official telegram group to obtain timely updates on 🎁Promotions, 📰News, and 💡Troubleshooting (bug reports and feedback)!
Staying safe from scammers
Be wary of scams that can take place in the form of online stock recommendations from unofficial sources or informal chat groups.
Scammers might impersonate real people from genuine financial services firms to tempt you into investing in any recommended stocks/investment products. Some scammers might use spoofed or unofficial social media accounts to spread and disseminate false information.
You can protect yourself and others by observing the following:
Change your privacy setting in your messaging apps to prevent others from adding you to random investment chat groups.
Be wary of stock tips/ recommendations from unofficial sources (e.g. Social Media platforms/Messaging App)
Do your research before investing in any investment product
Check the credentials of the supposed company or representatives using sources such as MAS Financial Institutions Directory, Register of representatives and Investor Alert List.
Disclaimer
All investments involve risks and are not suitable for every investor. The value of securities may fluctuate and as a result, clients may lose more than their original investment.
Margin trading increases the risk of loss and clients' losses may exceed the deposits placed. The past performance of a security or financial product does not guarantee future results or returns.
Keep in mind that while diversification may help spread risk it does not assure a profit, or protect against the loss, in a down market.
There is always the potential of losing money when you invest in securities or other financial products. Investors should consider their investment objectives and risks carefully before investing.
Any reward including shares, fractional or otherwise, which are received via any promotion campaign does not constitute as an invitation, inducement, recommendation, suggestion, or solicitation to investing.
Thank you for reading the article. Sign up today with Tiger Brokers via the referral code: SGRPTB or referral link.