Ryde Referral Promotion
Ride Hailing & More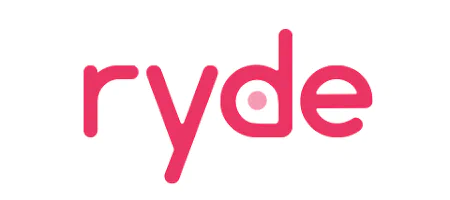 Receive $7 worth of RydeCoins in your Ryde Wallet when you sign up with Ryde via the referral link. Terms and conditions apply.
Note: mobile numbers registered with a prior account (e.g. recycled Telco mobile numbers) are ineligible for the referral bonus.
Table of Contents
About Ryde
We re-imagine the way people move around - where communities are brought closer and commuting made sustainable.
Ryde is a home-grown ride-hailing app that caters to the full suite of on-demand mobility services:
Private Hire
Carpool
Taxis
Delivery
Pets
Services
Transport and Courier Delivery options
RydeSEND: A 24/7 on-demand delivery service.
RydeX: Hire a private-hire car for up to four (4) people.
RydeTAXI: Metered taxi fare by all available taxi companies.
RydeXL: Seats up to six (6) people.
RydeLUXE: Book a premium ride (Alphard/Vellfire vehicles only) that seats up to six (6) people.
RydeFLASH: Get on the nearest ride and pay per seat.
RydePOOL: An environmentally sustainable way of transport through carpooling.
RydePET: A pet-friendly ride.
RydeHIRE: Hire private cars by the hour and make unlimited stops in a single booking for enhanced convenience.
Ryde+ monthly subscription plan
Ryde+ is a monthly subscription plan that unlocks additional savings on rides and deliveries. Members will be eligible for exclusive cashback bonuses every month, RydeCoins cashback on selected trips with no minimum fare, and more!
Tip
From now till 15 February 2023, clients of the POEMS brokerage are able to:
redeem a FREE one month subscription of Ryde+ (worth $19.99)!
redeem S$10 worth of Ryde E-voucher with just 500 POEMS Rewards Points!
Check out the POEMS brokerage review and referral post.
What are the Ryde Wallet and RydeCoins for?
Ryde Wallet is a secure wallet where you can top-up, store, and earn cashback. Go cashless with RydePay (Credit/debit card or RydeCoins) for a seamless experience.
Riders can also top up their wallets with the cryptocurrency Bitcoin (BTC)!