POEMS Referral Program
Pioneer for Singapore's online share trading

Validity period: till 30 Nov 2023
Open a 'Cash Plus' or 'Cash Management' Account with POEMS using the referral link and receive:
1,000 POEMS Reward Points (worth S$20 Shopee Voucher)
Free Unlimited US trades for 1 month

applicable for Cash Plus Account
refers to the offset of brokerage commission by Phillip Securities Pte Ltd (PSPL) for trades executed for US listed shares, excluding miscellaneous charges, exchange fees, GST and any applicable charges.
email will be sent within 5 working days
Requirements:
completely new customer to Phillip Securities Pte Ltd (PSPL)
opt-in to Excess Funds Management (SMART Park)
fund at least S$3,000 within 7 days
do not withdraw the funds for 30 days
Other Terms and Conditions apply.
Table of Contents
About POEMS
Your Trusted Broker since 1975, with a growing global presence in 15 countries
POEMS is the pioneer for online share trading in Singapore. Their award-winning suite of trading platforms and offers customers an array of financial products across multiple global exchanges.
Multi-Asset, Multi-Market
At POEMS, customers can gain unparalleled access to over 40,000 products across 26 exchanges worldwide including Stocks, ETFs, CFDs, Forex, Gold, Futures, Unit Trust, Regular Savings Plan (RSP) and more.
Dedicated Customer Support
At POEMS, we are committed to ensure you receive support at every step of the way.
Dedicated Equity Specialist

An equity specialist is assigned to every single account to provide customers with the assistance needed.

Round-the-clock Support

Enjoy seamless and smooth trading experience with round-the-clock customer support.

Island-wide Services
Unlike the online only brokerages, POEMS has brick and mortar presence in Singapore.
Fees
Check out the trading fees and commission for the Cash Plus Account.
Below is a fee comparison between POEMS and a couple of competitors which shows how POEMS shines for large trades.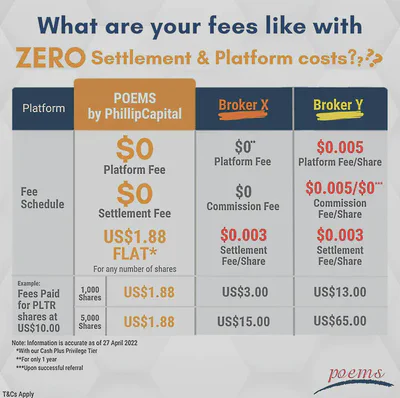 Special mentions
SMART Park
"With zero defaults since its inception, SMART Park is a safe and secure option for you to grow your idle cash!""
SMART Park is an Excess Funds Management Facility that automatically invests and manages your idle cash on a discretionary basis in Phillip Money Market Funds.
Features:
Ease of use, with no lock-in period: Cash will automatically be used for any share payments, other investment purchases or account transaction fees charged. If you have any urgent need, you can receive money to your linked bank account within the same business day.
No extra charges: There are no charges to park your money in SMART Park, so every dollar generates optimal returns for you.
Comparison between Cash Plus Account and Cash Management Account
There are 13 key differences between the two types of accounts explained in this article by POEMS.
Educate yourself on investing
I would strongly recommend you register a FREE account with SGX's Online Education Programme and complete the basic courses first if you are new to investing.
Staying safe from scammers
Be wary of scams that can take place in the form of online stock recommendations from unofficial sources or informal chat groups.
Scammers might impersonate real people from genuine financial services firms to tempt you into investing in any recommended stocks/investment products. Some scammers might use spoofed or unofficial social media accounts to spread and disseminate false information.
You can protect yourself and others by observing the following:
Change your privacy setting in your messaging apps to prevent others from adding you to random investment chat groups.
Be wary of stock tips/ recommendations from unofficial sources (e.g. Social Media platforms/Messaging App)
Do your research before investing in any investment product
Check the credentials of the supposed company or representatives using sources such as MAS Financial Institutions Directory, Register of representatives and Investor Alert List.