Moomoo by Futu SG Referral Promotion
Based in Singapore, Futu SG is a next-generation broker-dealer.
Current referral promotion validity period: till 8th March 2021
Account opening during soft launch period (till 28th Feb 2021) is limited to Singaporeans and PRs with SingPass MyInfo access.
Get 1 free Apple Share (AAPL market value is US$136 on 8/2/2021), 1 year commission free trading and free level 2 market data when you sign up with Moomoo by Futu SG with my referral link.
Terms and Conditions apply.
Moomoo's mission is to provide any level of investors with an intuitive and powerful investing platform by using technology.
About Moomoo
Is it Moomoo or Futu???
Futu Singapore Pte. Ltd is a company authorized and regulated by the Monetary Authority of Singapore (MAS) and Moomoo is the name of the trading platform.
Corporate background
Futu Singapore's parent company, Futu Holdings Limited, is backed by world-class investors which include venture capital affiliates of Tencent, Sequoia Capital and Matrix Partners.
MAS License
Futu Singapore Pte. Ltd. ("Futu SG") is a capital markets services licence holder regulated by the Monetary Authority of Singapore (Licence No. CMS101000).
Reasons to use Moomoo
Better Trading Experience: Providing a seamless trading experience and informed investment decision with technology and data analytic tools.
Better Execution Price: Compare bid/ask prices across different exchanges.
Markets supported
Currently in the soft launch phase, only pre/post market trading is supported for the US and HK markets, including options. SG stock market will be made available during the official launch.
Fees:
Are there any custodian fees?
There are no custodian fees at the moment.
My Moomoo by Futu SG onboarding experience
Which app should I be downloading?
There are two apps, namely Moomoo and Futubull.
In Singapore, we should be using Moomoo which is the international version of Futubull and is specifically designed for overseas investors and provide global investment services.
Futubull is meant for customers in Greater China Region.
Account opening wait time
[1st Feb 2021 1:59pm] Submitted my account opening information via SingPass MyInfo and received email acknowledgement.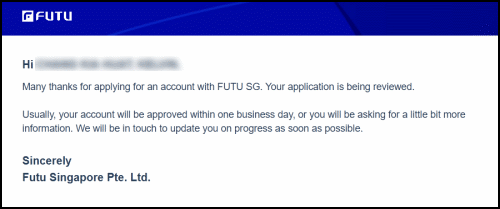 [1st Feb 2021 2:11pm] Received email that my account was opened successfully.

Depositing funds
Futu SG does not charge any fees for deposit and withdrawal, but they may be charged by your bank. The advice I received was to transfer from a DBS account so as not to incur wire transfer fees.
You can only deposit funds from, or withdraw funds into Singapore bank accounts under YOUR name.
Futu Singapore can only accept domestic transfers in US Dollar and HK Dollar currently. Customer service says there are plans to accept funding in SGD from March 2021.
So far, I have successfully completed two fund deposits, once from a DBS USD account and once from a DBS SGD account.
[1 Feb 2021]: USD to USD deposit
When you tap on "Deposit" in the Moomoo app, you will be presented with the details of the Futu Singapore bank account to deposit into. This account is actually a DBS a multi-currency account.
I was initially under the impression that I needed a USD account to deposit funds into Futu SG, so I created a DBS multi-currency account called "My Account".
DBS My Account is for everyone and you can open one at any age. There's no minimum balance, no initial deposits, or fall-below fees, ever.

Source: My Account
Next, from the DBS banking platform:
I converted some SGD into USD,
added Futu Singapore as a payee in my DBS banking account,
initiated a USD to USD deposit to Futu Singapore's account.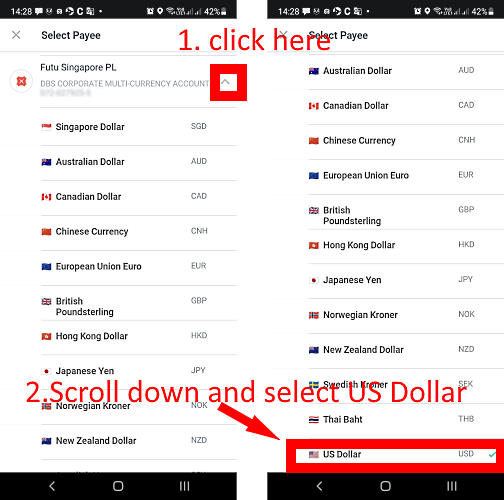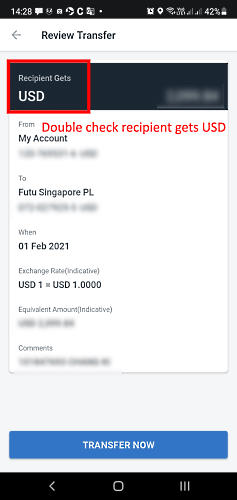 The Moomoo app states that you must indicate your account number and name in the "comments" section of the bank transaction when you initiate a deposit.
If you copy and paste this information from the Moomoo app, it should be something like: "101899999, TAN AH KOW".
However the DBS banking platform does not allows commas and there is a length limit too.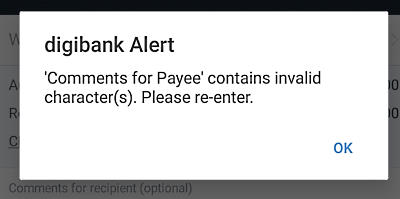 So I ended up entering something like "101899999 TAN A", and thankfully was able to receive my funds without hiccups.
The transfer took a few hours to arrive into my Moomoo account.
The amount of USD I received in Moomoo was exactly the amount I sent from DBS. There were no fees or charges.
[2 Feb 2021]: SGD to USD deposit
A simpler way to transfer from the DBS banking platform is:
Add Futu Singapore as a payee in your DBS banking account,
initiate a SGD to USD deposit to Futu Singapore's account.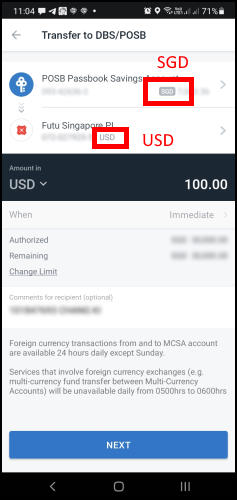 Since the destination currency is USD, the funds would be converted automatically based on the bank's rate.
Similar to the USD to USD transfer, this took a few hours to arrive into my Moomoo account.
The amount of USD I received in Moomoo was exactly the amount I sent from DBS. There were no fees or charges.
Seeking help from Futu SG
I used the Moomoo app and under "me" tab, you can see "Help Center". After that, select "Online service" from the bottom of the screen.
There is a waiting queue buy when it was my turn, the CSO was very helpful towards my queries.