moomoo powered by Futu new user referral promotion
Futu Singapore is a One-Stop Investment Platform

Welcome Bundle campaign period: till 31 May 2023 at 23:59 SGT
Open your moomoo account via this referral link, and stand to receive the welcome benefits (worth up to S$208).
Task 1: Successfully open a FUTU SG Securities Account:
Lifetime commission-free in the U.S. stock market
Free access to Lvl 2 Market Data for the US stock market
Free access to Lvl 1 Market Data for the SG stock market
Free access to Lvl 1 Market Data for China A Shares market
Task 2: Deposit at least S$100
Receive S$2 cash coupon everyday for 10 days (Total S$20)
Task 3: Deposit cumulative amount S$2,000 and above, and complete 2 Buy trades
1 FREE Coca-Cola (NYSE: KO) stock
Task 4: Deposit cumulative amount S$10,000 and above, and complete 7 Buy trades
Receive S$108 Cash Coupon
Do read the full terms and conditions in detail.
Table of Contents
About moomoo
moomoo is a one-stop investment platform that integrates clear market data, social collaboration, and one of the best-in-class trade execution. It is equipped with real-time data and powerful analytic tools to help clients make sense of the markets and inform their trade decisions.
Clients can manage assets, portfolios, and investments globally across multi-market for US stocks, HK stocks, SG stocks, U.S. stock options, Futures, ADRs, Exchange Traded Fund (ETFs), and REITs.
In February 2023, moomoo also launched Forex trading with features like 20X leverage, tight spread from as low as 0.6 pips on all major currency pairs, and STP(straight-through-processing) execution system to achieve potential higher fill-rates.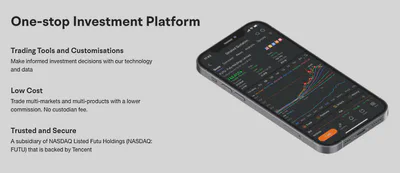 Corporate background
Futu Singapore's parent company, Futu Holdings Limited, is listed on NASDAQ and backed by world-class investors which include venture capital affiliates of Tencent, Sequoia Capital and Matrix Partners.
Their strong financial strength supports the enticing benefits they are offering to attract new traders.
Launch in Singapore and regional expansion plans
moomoo launched in Singapore in early 2021, and have already reached the milestone of 100,000 paying customers in June 2021.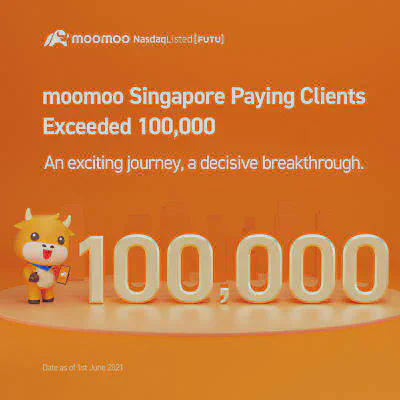 With Singapore as the regional headquarters, they have plans to expand to other countries like Malaysia, Thailand and Vietnam etc.
Regulatory compliance
The company is trusted and regulated worldwide with 51+ licenses in major financial markets, including Singapore, USA, Australia and more.
In Singapore, investment products available through the moomoo App are offered by Moomoo Financial Singapore Pte. Ltd. ("moomoo SG"), moomoo SG is a broker-dealer and custodian licensed by the Monetary Authority of Singapore, (License No. CMS101000).
In February 2022, it announced moomoo announced its 'Exempt Financial Adviser' status from the MAS, which allows that to provide financial advisory services on investment products.
First digital brokerage to receive full memberships from SGX Group
On 30 June 2022, Futu Singapore became the first digital brokerage to be offered full memberships with the Singapore Exchange (SGX). It is now one of the twelve SGX Group's members with full memberships across securities and derivatives markets.
Markets supported for trading
For Singapore users, trading is currently supported in the Hong Kong, Singapore and US markets.
Reasons to make moomoo your preferred trading platform
1. Reliability
Apart from being regulated by Monetary Authority of Singapore, U.S. Securities in your account is protected up to USD $500,000 by Securities Investor Protection Corporation (SIPC). Explanatory brochure available upon request or at www.sipc.org.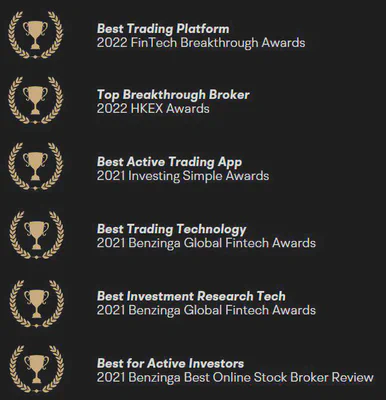 2. Zero commission for US market FOREVER! | Low trading fees for other markets
In April 2022, moomoo announced it would not longer charge commission on US market stock trades. To celebrate this announcement, moomoo also announced that it will be waiving all platform fees trades in the US stock market for 1 year.
Even though there is zero commission for the US market, other charges are still applicable. For more details, please refer to the full fee schedule.
For example, settlement fee ($0.003/share), can be quite significant when trading penny stocks. On 23 May 2022, moomoo announced settlement fee would be capped at 1% of the transaction amount.
As for the other markets, the platform offers some of the lowest fees and trading minimums available to investors in Singapore. moomoo is fully transparent with their charges, which is presented clearly in their fees schedule:
Please note that apart from the commission, trades have platform and regulatory fee components too.
These are payable even during the commission free period. For example, a trade in the Singapore stock in market would still incur:
Platform Fees: 0.03% of transaction amount, minimum SGD 1.50 (payable to Futu)
Trading fee: 0.0075% of transaction amount (payable to SGX)
Clearing Fee: 0.0325% of transaction amount (payable to SGX)
Fee comparison vs other popular brokerages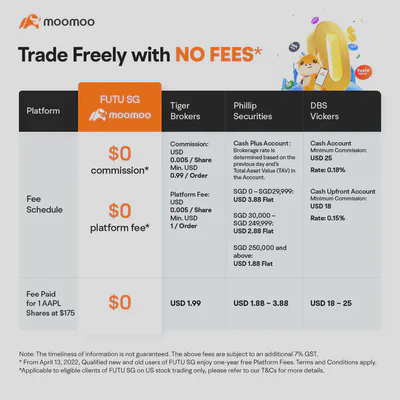 3. Rich knowledge base, 24/7 financial news, live events and vibrant user community
moomoo aims to be making investing easier whether you are a seasoned investor or a novice.
The platform offers a wide array of powerful, in-depth and customised analytical tools with its growing community of investors.
Enjoy 24/7 financial news, including consolidated newsfeeds from Bloomberg, Dow Jones, Benzinga, Investorplace and other credible news sources, all in one place.
There are also podcasts and courses where you can learn about topics like:
Stock fundamentals
Understanding how options work and reading options tables
IPO investing
ETF strategies
The federal reserve
Economic indicators
If you are lazy to read the articles and prefer to listen, the moomoo app can even read out articles. I typically set the playback speed to 1.25x.
There is an active community of investors sharing trade ideas and you can 'follow' them to get latest updates.
There is also a 'Moo Picks' section in the app where you can get curated market headlines.
Another point to highlight is that moomoo also broadcasts conference earning calls and sponsors live events.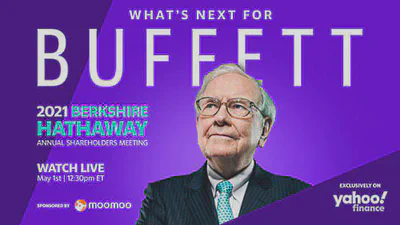 4. No custodian fees
There are no custodian fees charged by Futu to hold your portfolio.
5. Funds platform
moomoo's funds platform can be found under the "Discover -> Funds" in the moomoo app. This feature provides one-stop access to 60+ funds (equity, bond, dividend, money-market, or balanced funds) from 20+ asset managers.
Reasons to consider investing in funds include:
Low start-up cost: Initial investments start as low as US$100. Mutual funds enable individual investors to participate in investments that may only be available to big investors previously.
Professional Management: One of the key advantage of mutual funds is that they are managed and operated by a fund manager. These fund managers have strong financial background coupled with rich investment knowledge and experiences.
Diversification: mutual funds allows one to invest in different asset classes such as equity, gold, and debt.
Liquidity: Investors can liquidate their investment into cash easily by redeeming part of the whole fund securities.
Safety: In the US market, mutual funds are under stricter regulation than other pooled investment vehicles. These funds must comply with at least three federal legislation and are closely monitored by the SEC. This protects the interests of the investors to a large extent.
Cash Plus
The Cash Plus product is a decent way to fight inflation. The goal of Cash Plus is to generate returns for your idle cash with greater flexibility.
As of September 2022, the yield is ~2.5% p.a.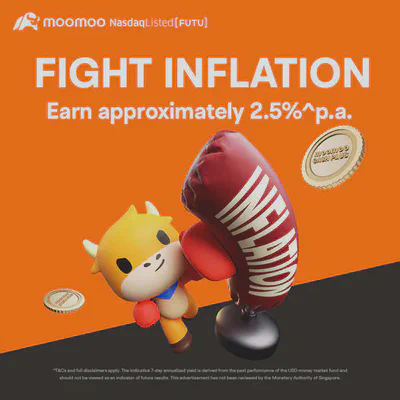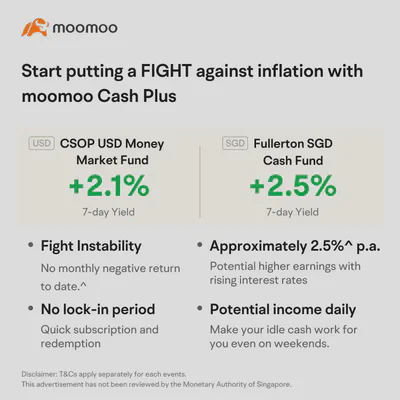 6. Good support
Customer helpdesk
I had a pleasant experience seeking help from the customer support department. There was a waiting queue but when it was my turn, the CSO was very helpful towards my queries.
How to get help?
Step 1: In 'Me' tab within moomoo app, tap 'Help Center'.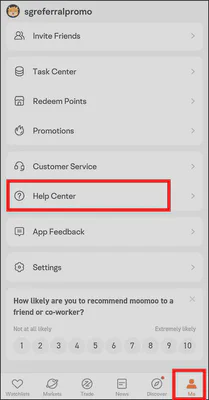 Step 2: Select 'Online Inquiry' from the bottom left of the screen.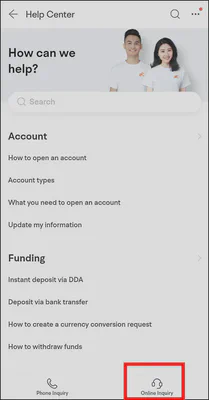 7. Extended Trading Hours at no additional cost
Stock exchanges such as the NASDAQ or NYSE are typically open from 9:30 am to 4 pm EST. Trading during extended hours has traditionally been available only to high net worth individuals.
With moomoo's extended trading hours of an additional 9.5 hours, anyone can make a trade between 4 am - 8pm EST, similar to a trade during standard trading hours.
This feature is at no additional cost and is especially useful when companies announce earnings after market closes or when activities in foreign markets impact U.S. stock prices.
Video tutorials
There is an official moomoo Singapore Youtube channel that you can subscribe to for video tutorials on the various features of the platform.
Listed below are some useful videos.
Account set up
Funding
Knowledge
Trading
Getting Help
My onboarding experience
Which app should I be downloading?
There are two apps in the app store:
moomoo: for investors in other global markets. This is the version we should use in Singapore
Futubull: meant for customers in Greater China Region.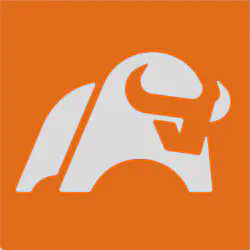 Account opening wait time
[1st Feb 2021 1:59pm] Submitted my account opening information via SingPass MyInfo and received email acknowledgement.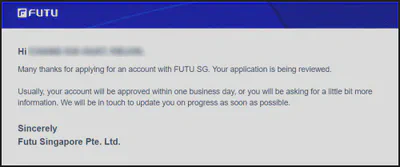 [1st Feb 2021 2:11pm] Received email that my account was opened successfully.

Depositing funds
There are currently two ways of depositing funds:
Instant Deposit via Direct Debit Authorisation (DDA)
Bank Transfer
Option 1: Direct Debit Authorisation (DDA)
I strongly recommend choosing the DDA option if you have a DBS/POSB account. Linking up only takes 1 minute.
Option 2: Bank Transfers
When I first started my account, the DDA option was not available. In this section, I am sharing my experience of using bank transfer to fund my moomoo account.
Depositing SGD
[Information last verified on 14/3/2021]
Depositing SGD is very straightforward. My steps were:
launch the moomoo app and select the 'Me' tab on bottom right.
select 'All >' under the 'Trading Accounts' section.
select 'Deposit' under the 'Fund' section.
perform a FAST transfer to the account specified for SGD currency deposits.
tap the 'Inform FUTU' button to inform Futu how much was transferred.
The app stated that it would take 1-3 business days for the funds to arrive but from my experience, the funds arrived immediately into my moomoo account despite it being a Sunday night.
Can I deposit SGD from a joint account?
From my personal experience, the answer is 'Yes'! I managed to deposit funds from an OCBC joint account.
Depositing USD
Futu SG does not charge any fees for deposit and withdrawal, but they may be charged by your bank.
**For USD transfers, the advice I received was to transfer from a DBS account so as not to incur wire transfer fees.**
You can only deposit funds from, or withdraw funds into Singapore bank accounts under YOUR name.
My experiences shared below is for depositing USD when moomoo SG was still in soft launch. They now accept SGD deposits.
So far, I have successfully completed two USD fund deposits, once from a DBS USD account and once from a DBS SGD account.
USD to USD deposit (1 Feb 2021)
When you tap on "Deposit" in the moomoo app, you will be presented with the details of the Futu Singapore bank account to deposit into. This account is actually a DBS a multi-currency account.
I was initially under the impression that I needed a USD account to deposit funds into Futu SG, so I created a DBS multi-currency account called "My Account".
DBS My Account is for everyone and you can open one at any age. There's no minimum balance, no initial deposits, or fall-below fees, ever.
Source: My Account
Next, from the DBS banking platform:
I converted some SGD into USD,
added Futu Singapore as a payee in my DBS banking account,
initiated a USD to USD deposit to Futu Singapore's account.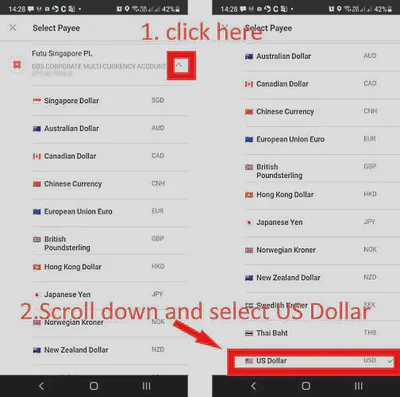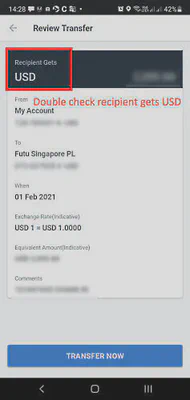 The moomoo app states that you must indicate your account number and name in the "comments" section of the bank transaction when you initiate a deposit.
If you copy and paste this information from the moomoo app, it should be something like: "101899999, TAN AH KOW".
However the DBS banking platform does not allows commas and there is a length limit too.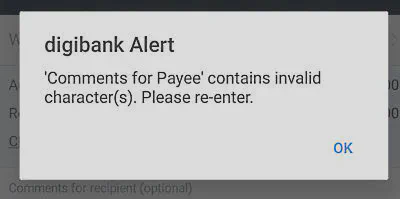 So I ended up entering something like "101899999 TAN A", and thankfully was able to receive my funds without hiccups.
The transfer took a few hours to arrive into my moomoo account.
The amount of USD I received in moomoo was exactly the amount I sent from DBS. There were no fees or charges.
SGD to USD deposit (2 Feb 2021)
A simpler way to transfer from the DBS banking platform is:
Add Futu Singapore as a payee in your DBS banking account,
initiate a SGD to USD deposit to Futu Singapore's account.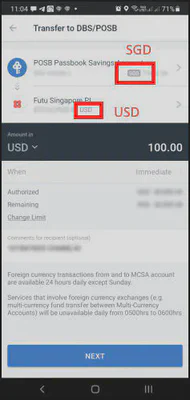 Since the destination currency is USD, the funds would be converted automatically based on the bank's rate.
Similar to the USD to USD transfer, this took a few hours to arrive into my moomoo account.
The amount of USD I received in moomoo was exactly the amount I sent from DBS. There were no fees or charges.
Withdrawing funds
Based on my withdrawal experience on 4 Jun 2021:
If you had set up 'Direct Debit Authorisation (DDA)' when you deposited funds, funds withdrawal is easy. Since your bank account is already verified, simply select it from the withdrawal screen and perform a FAST transfer with zero fees.
If you do not have DDA set up, you will have to manually add your bank account details into the app and also provide a proof like a bank statement to perform a withdrawal request.
In conclusion, I strongly recommend to set up your deposit account with DDA to enjoy a fuss free withdrawal process.
Corporate Social Responsibility (CSR)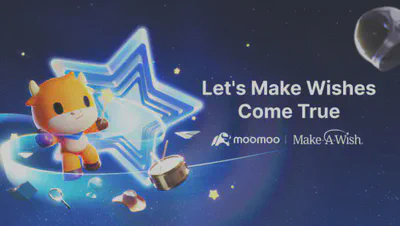 Moomoo Joins Hands with Make-A-Wish to Enrich Lives of The Children in Need [Nov 2022]

Moomoo and its parent company Futu Holdings (Nasdaq: FUTU) will share the power of wishes in the coming 12 months with their $200,000 donation, bringing joy and hope to eligible children from Singapore, Hong Kong SAR, USA and Australia.
Make-A-Wish® creates life-changing wishes for children with critical illnesses. Founded in 1980, Make-A-Wish is the world's leading children's wish-granting organization, having granted more than 520,000 wishes in nearly 50 countries worldwide
Staying safe from scammers
Be wary of scams that can take place in the form of online stock recommendations from unofficial sources or informal chat groups.
Scammers might impersonate real people from genuine financial services firms to tempt you into investing in any recommended stocks/investment products. Some scammers might use spoofed or unofficial social media accounts to spread and disseminate false information.
You can protect yourself and others by observing the following:
Change your privacy setting in your messaging apps to prevent others from adding you to random investment chat groups.
Be wary of stock tips/ recommendations from unofficial sources (e.g. Social Media platforms/Messaging App)
Do your research before investing in any investment product
Check the credentials of the supposed company or representatives using sources such as MAS Financial Institutions Directory, Register of representatives and Investor Alert List.
Other reads
Disclaimer
Any video and texts (including but not limited to text, video, audio, data and charts) are only for personal experience sharing and informational purposes. All contents are for your reference only; they do not constitute to any investment advice or promise. We do not warrant, endorse, guarantee, or assume any responsibility for any loss caused by this text/video content. All forms of investments carry risks, including the risk of losing all of the invested amount. Such activities may not be suitable for everyone.
Start your investment journey with moomoo today.