Ledger Hardware Wallet Referral Promo
State-of-the-art security for crypto assets

Table of Contents
About Ledger
5+ million hardware devices sold in more than 160 countries [Jul 2022]
Ledger was launched in 2014 around the idea of creating secure solutions for blockchain applications. It is one of the market leaders for hardware wallets, allowing users to purchase, exchange and grow/stake crypto securely using a Ledger hardware wallet, combined with the Ledger Live app.
Ledger SAS and its subsidiaries now have over 800 employees in various cities including Singapore.
Notable products from Ledger are:
Ledger Nano X
Ledger Nano S Plus [Launched on 5 Apr 2022]

DeFi friendly
designed with NFT collectors' needs in mind
manage 5500+ digital assets

Ledger Stax

most advanced and customizable Ledger incorporating a curved e-ink touchscreen
Why Use A Hardware Wallet?
Ledger started a new series called "How I Got Hacked" on their Youtube channel which shares stories of the mistakes hack victims made.
Here is episode 1:
Ledger Live
Buy, exchange, grow your crypto - and more. All in one app. Manage 5,500+ coins and tokens.
Ledger Live is a Web3 wallet that complements the Ledger hardware wallet. Some features include:
Buy crypto
Swap crypto
Access DeFi apps and services
Manage NFTs
Check crypto market prices
Pay using your crypto
NFTs in Ledger Live
Users will be able to view, send, and receive NFTs in Ledger Live beginning in December 2021, with transparent transactional signing and full ownership of their NFTs. As Ledger strengthens its position in the NFT space, it plans to integrate Rarible, a premier NFT marketplace, launching in Ledger Live's Discover tab in January 2022.
Personal Experience
I resisted buying a hardware wallet for a long time because I felt it was ok to have the various crypto exchanges holding the assets for me, saving me the effort of having to secure crypto keys myself; until the exchanges started collapsing like dominoes in 2022.
Another reason why I procrastinated was the high cost of crypto hardware wallets. I was keen to get a Ledger wallet because it is a well-known market leader in this niche and has strong integration with various crypto projects. But Ledger hardware wallets don't come cheap.
The referral benefit of US$10 BTC - small compared to the price of the Nano X - offsets some of the price, and helped push me to make the leap of faith and purchase one for myself.
Why no tamper evident packaging???
I was expecting my Nano X to arrive in some tamper evident packaging, like holographic seal stickers on the box edges etc, but it just arrived vacuum wrapped with no security protection on the packaging.
I was worried and Googled about this. Here is an article by Ledger addressing this concern.
Ledger integrates native protection against tampering based on cryptographic attestation

If an organisation had enough know-how to intercept your package, replace the firmware of your hardware wallet by some rogue software which would allow them to empty your wallet, don't you think it would be trivial for them to duplicate and replace a piece of colored tape, giving you a false impression of security?
Setting up Nano X
Do set aside at least 30 minutes to set up your device.
Claiming the referral benefit of US$10 worth of BTC
I purchased my Nano X using someone's referral link and my package arrived with an additional Ledger gift card like below: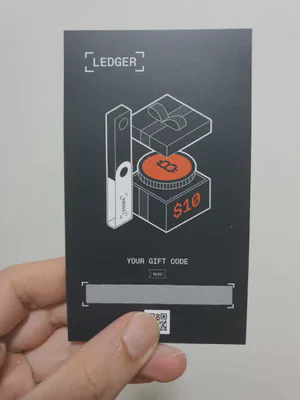 After setting up my Ledger device, I had to:
Click 'Portfolio' menu option in Ledger Live app (desktop version)
Click on 'Refer and earn $10' on the top of the screen.
Create and add a Ethereum account

the referral reward is BTC but we need an Ethereum account to register for the 'Refer a friend' account. Only after we create a 'Refer a friend' account can we redeem the gift card

Scratch the gift code and redeem it by clicking on 'Redeem your gift code'
Notes:
The gift code is something like this: 5X6QB-XXXXX-XXXXX-XXXXX. When redeeming the gift card, you need to key in exactly in the same letter case and also include the dashes.
After redeeming the gift code, the reward will be indicated as pending and can only be claimed after 2 weeks+. Not sure why this is so.

Learn more on crypto investing in Singapore
For more crypto-related insights and promotions from a Singapore perspective, visit
SgCryptoInvestor.com
.
Cryptocurrency is a high-risk investment. The value of cryptocurrency can fluctuate significantly and you may lose the capital you invest. Before investing, educate yourself about cryptocurrencies and to familiarise yourself with the risks involved.