Kind Kones Referral Promo
All-Natural, Plant-based Frozen Desserts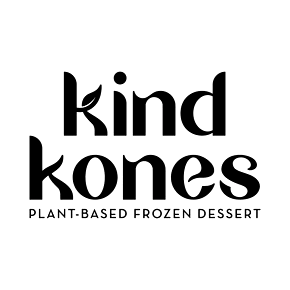 Sign up with Kind Kones via the referral code: SGRP or referral link and receive 50 points.
Note:
a $5 voucher is redeemable with 100 points.
Table of Contents
About Kind Kones
Kind Kones is a plant-based ice cream shop that operates in Malaysia and Singapore. They offer a variety of delicious, vegan-friendly ice cream flavors made with all-natural ingredients that are free from dairy, eggs, refined sugar, and artificial additives.
Kind Kones strives to provide a better way to indulge in sweet treats guided by a philosophy of being kind to your body, the environment, and to others.
At Kind Kones, you can find unique and creative flavors like Blue Planet, Charcoal Vanilla, Keto Avocado Coconut, Spiced Pine & Orange, Watermelon Strawberry Mint, as well as classic flavors like Vanilla and Chocolate. They also offer a range of toppings and cones to customize your ice cream experience.
In addition to ice cream, Kind Kones serves a selection of other vegan-friendly desserts and beverages, such as cakes, cookies, and Kombucha.
If you're looking for delicious, guilt-free ice cream and desserts in Singapore, Kind Kones is definitely worth a visit!
catering service
Kind Kones in Singapore offers a catering service that provides delicious and healthy plant-based desserts for various events, such as corporate events, weddings, birthday parties, and other special occasions.
Their catering menu includes a variety of ice cream flavors, cakes, and desserts that are made with natural, wholefood ingredients and are free from dairy, refined sugar, soy, and gluten. They can also accommodate special dietary requirements, such as nut-free, egg-free, and vegan options.
Overall, if you're looking for healthy and tasty plant-based desserts for your event in Singapore, Kind Kones catering service is a great option to consider.
store locations
As of April 2023, there are three store locations in Singapore:
Forum Shopping Mall, #B1-27
The Paragon, #B1-15
i12 Katong, #02-25
Tips
Deals and privileges on Kris+
Enjoy deals and privileges when using Kris+ (see Kris+ referral post) at Kind Kones.
Deals and privileges in September 2023:
$60 for $50 cash voucher
10% off total bill
complimentary scoop for birthday
Earn cashback and save more by using FavePay
I visited Kind Kones in July 2023 and used FavePay (see FavePay referral post) to make payment. On top of earning cashback, I saved more money by utilizing Fave's eCards for Kind Kones.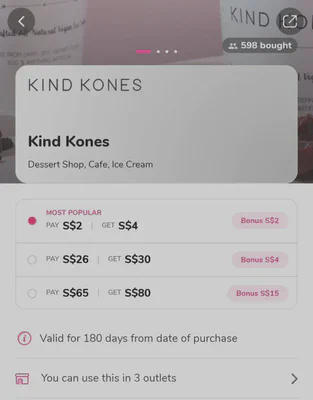 Not a fan of coconut milk based ice-cream? Try the sorbets instead
Most of Kind Kone's ice-cream offerings use coconut milk as a base and if it is not to your liking, give the sorbets a try. I was pleasantly surprised when I first tried it because the texture was very smooth with no discernible ice particles.
My personal favourite is the 'Mango Raspberry Swirl' flavour. A close second is the 'Passionfruit flavour'. It is sooo sour but yet addictive. The taste of the 'Lychee & Lime Sorbet' didn't go down well with anyone from my family :(
I only managed to find one ice cream flavour that uses almond milk instead of coconut milk, which is the 'Double Chocolate Brownie' ice-cream.
Birthday Benefits