Instarem Referral (InstaPoints, KKday voucher giveaway)
Fast, Seamless, Low Cost Overseas Money Transfers | Travel and save with amaze card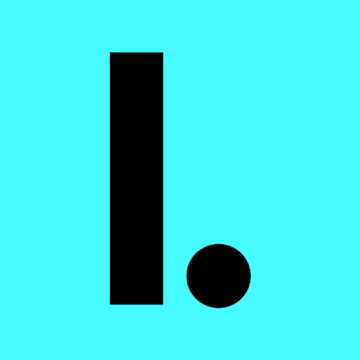 Standard Welcome Reward
Sign up with Instarem via the affiliate link to receive bonus 125 InstaPoints.
Site Exclusive Bonus: $10 KKday voucher lucky draw
SgReferralPromo.com is giving out $10 KKday vouchers to 20 lucky winners, kindly sponsored by Instarem. Stand a chance to win when you use sign up with the affiliate link, no other requirements to meet.
Note:
[IMPORTANT] you must sign up with the affiliate link and not use any referral code.
sign up between 24 Aug to 20 Sep 2023 to be eligible.
winners must redeem voucher by 30 September 2023 and utilise by 31 December 2023
Latest Promotion Offer (as of 4 Sep 2023)
Zero Fees on first transaction to India (valid for APAC countries only)
50% off on first transaction fee from any country in APAC (outside INR)
Terms and conditions apply
Table of Contents
About Instarem
Simplifying Payments Globally – It's in Our DNA
Instarem is the trading name of NIUM Pte Ltd, a Singapore-headquartered Fintech company offering digital cross-border money transfers to individuals and businesses.
NIUM Pte Ltd is regulated by the Monetary Authority of Singapore as a Major Payment Institution under License No. PS20200276.
What are InstaPoints (IPs) and what can I use them for?
InstaPoints are Instarem's rewards points that can be used to offset against the fees of remittance transactions or to redeem as cashback in one's 'amaze wallet' via the mobile app.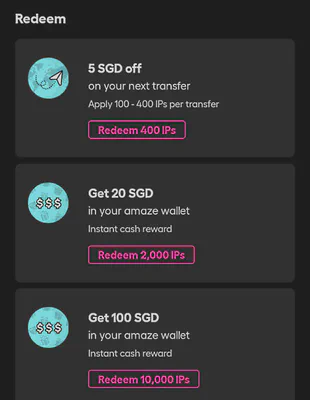 Service Portfolio: Remittance
Why should I use Instarem for remittance?
Regulated by the Monetary Authority of Singapore (MAS). I wouldn't advise to use any service not regulated by MAS.
Better FX rates than banks.

Instarem offers zero-margin* FX rates. According to them, many banks and Money Transfer Providers add a mark-up to the FX rates they offer to their customers for sending money abroad. Besides, there are other hidden charges which makes for an inefficient, international money transfer experience.

You can sign up conveniently using SingPass MyInfo
Instant transfer to Visa debit cards
Transparency, low remittance fee and zero hidden charges.
Send money to Malaysia instantly

send money to your loved ones in real time and faster than banks!

Large number of countries supported

Asia: Bangladesh, China, Hong Kong, India, Indonesia, Japan, Malaysia, Nepal, Philippines, Singapore, South Korea, Sri Lanka, Thailand, Vietnam
Europe: Austria, Belgium, Bulgaria, Croatia, Cyprus, Czech Republic, Denmark, Estonia, Finland, France, Germany, Greece, Hungary, Ireland, Italy, Latvia, Lithuania, Luxembourg, Malta, Monaco, Netherlands, Norway, Poland, Portugal, Romania, San Marino, Slovakia, Slovenia, Spain, Sweden, United Kingdom
North America: USA, Canada, Mexico
South America: Argentina, Chile, Colombia, Peru
Oceania: Australia
*applicable only for certain currencies and certain trading hours
Personal experience
My impressions of Instarem remittance:
Signing in is convenient via Facebook and Google social accounts.
Transfer of funds to Instarem can be via PayNow.
I have sent monies to Malaysia, and recipients typically receive the funds really fast (as short as 1 minute).
Supports sending monies to foreign businesses.

I once purchased some goods from Australia and needed to pay the foreign business >$1000AUD. I was able to do this via Instarem rather than through a bank and thus saved some expensive TT fees.
Not every remittance service supports paying to businesses so I view this as a big plus point for Instarem.
---
Service Portfolio: amaze card
"This smart travel card is a must-have for anyone who loves to travel."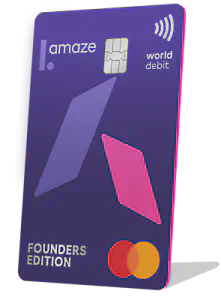 The 'amaze card' is both a virtual and physical card that can combine up to 5 Mastercard debit/credit cards. This eliminates the need to carry multiple cards.
Each time a transaction is charged to the amaze Card:
Instarem converts any foreign currency (FCY) amounts into Singapore dollars based on its own internal exchange rate
the Singapore dollar amount is then charged to the linked credit/debit card
Users settle the transactions made with the amaze card as per normal (directly with the underlying card issuer).
Within the Instarem app, users can choose to fund transactions made with the 'amaze card' via:
any of the Mastercard debit/credit cards that are bound
the 'amaze wallet'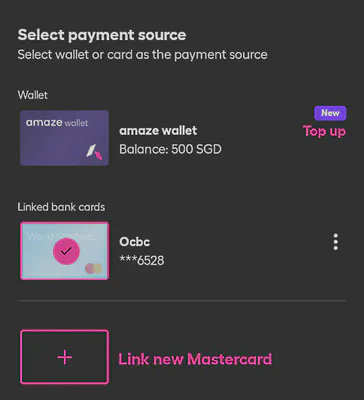 What is the 'amaze wallet'?

As mentioned previously, the 'amaze card' only supports binding Mastercard cards. This results in Visa card holders being unable to enjoy other benefits of the 'amaze card' like good overseas FX rates and deals with partner merchants.

The 'amaze wallet' helps to overcome this shortcoming. It is a digital wallet that allows fund top-ups from Visa cards.

Another functionality of the 'amaze wallet' is to receive quarterly cashback earned from 'amaze card' transactions.

As of October 2022, there is a cap of S$3000 that the 'amaze wallet' can hold.
More reasons you should get an amaze card for yourself
FREE card with no annual or processing fees:

Users are not charged for applying an 'amaze card'. There are also no annual or processing fees!

Earn Instapoints:

Earn InstaPoints on all FX (non-SGD) spend at a rate of 1 InstaPoint on every 1 SGD-equivalent in foreign currency made on your amaze wallet balance.
Do note that the amaze transaction must be a min of 10 SGD (currency equivalent).

Cool travel benefits:

Enjoy perks like global data roaming, lounge access for travel delays, and insurance coverage. Check out this Instarem blog post for more details.

Deals with partner merchants:

Check out special deals you can enjoy when using the 'amaze card'.

Mastercard's World tier benefits:

Enjoy all the benefits of Mastercard's World tier with Instarem's 'amaze card'. You'll get zero liability protection, ID theft protection, global emergency services, and more!

Enjoy good FX rates and no overseas transaction fees:

When you use the Amaze Card overseas, the transaction is converted back to SGD at favourable rates offered by Instarem. Thus there are no overseas transaction fees involved.
Note that Instarem's rates are not the spot rate found on Google.

Overseas ATM withdrawal support:

withdraw up to SGD 1,000 (foreign currency equivalent) daily while overseas
supports ATMs with Mastercard®, Maestro® or Cirrus® logo.
note that some ATM operators may charge additional withdrawal fees or impose a minimum withdrawal amount.

GPay (Google Pay) support:

You can use the 'amaze card' on Google Pay and enjoy greater convenience by paying with your Android phone. This also allows you to stack the cashback with any Google Pay rewards.

Lock in the best rates to convert anytime:

hold, convert and spend in 10 currencies: SGD, AUD, CAD, CHF, EUR, GBP, JPY, NZD, THB, and USD.
Personal experience
I was initially reluctant to tie my credit cards from other banks into the 'amaze card' because I was worried that the Merchant Category Codes (MCC) for transactions would be altered, and render the transactions ineligible for points and cashback from the card issuing bank.
Upon checking with Instarem, I learned that the MCC for transactions are passed through to the underlying card so my worry was unfounded.

Caution on amaze wallet transaction fee
Most transactions are fee-free. However, a 2% fee will be applicable to domestic (SGD) transactions involving GrabPay, prepaid cards and other e-wallet top-ups, when using amaze linked to your wallet.
Check out the list of MCC codes that will trigger transaction fees here.
Caution when switching the amaze card payment source
As shared earlier, the amaze card allows you to bind multiple Mastercards to it, and select which card to use as the payment source when making purchases.
One liner summary of the issue: the amaze card charges the payment source at the point of time the transaction is posted, and not at the point of time where the transaction is first made.
Details: I had wanted to use my ICBC Mastercard for a recent purchase on Amazon.sg, and had selected the card as the payment source when I checked out the purchase. However, Amazon.com only charged my card the next day, but by then, I had already switched the payment source to a different card. This resulted in me missing out on the cashback benefits my ICBC Mastercard was offering.
Overseas transactions
I observed that for my trip to Australia in November 2022, the charges posted to my credit card in SGD were about 2% higher than the rates used by Mastercard.
Example:
Hotel booking in foreign currency: USD 1156.42
Charge to my credit card in Singapore currency: SGD 1,658.57
Comparison against rates on
Google: USD 1156.42 = SGD 1,621.63

calculations: (1658.57 - 1621.63) / 1621.63 x 100% = 2.27%

Mastercard Currency Convertor Calculator: USD 1156.42 = SGD 1,625.11

calculations: (1658.57 - 1625.11) / 1625.11 x 100% = 2.05%
Taking into consideration that I get to earn Instapoints (effectively cashback) and that I do not have to pay the bank's overseas transaction fees, this is a still acceptable FX spread.
PSA: Beware of illegal activities
Keep your account safe. Never facilitate fraud and money laundering by being a money mule.
Stay away from deals offering to purchase your account.
Never let someone else access or watch you access your account.
Don't make payments on behalf of another person.
Never share login details of your account with someone else.