iChange Referral Code: kelvin7 (Referral Promo)
World's first money changer marketplace.

Hey, I am using iChange for money exchange and remittance. Their rates are very competitive.
Sign up for a iChange account via the referral code: kelvin7 and get $5 upon account opening and ordering of a physical card!
As of October 2023, the iChange physical Mastercard is free of charge. Delivery is also free!
Terms and conditions apply.
Table of Contents
What is iChange?
iChange is a Singapore-based multi-currency mobile wallet with Mastercard, built just for your financial well-being. We believe in providing instant, secured and easy payments, making life awesome!
iChange by IBV Pte Ltd, built specifically for Singapore residents, providing users with a hassle-free and user-friendly method for currency exchange and forex transactions.
The app emerged as a result of a collaborative effort involving five money changers:
Anua Group Money Exchangers
Ariza Money Exchange
Iakaba Money Exchange
Shenton Money Exchanger
Shining Money Exchange
These money changers were awarded the Digital Acceleration Grant (DAG) by the MAS, which supports digital solutions that enhance operational resilience, efficiency, risk management, and customer service.
Key features
Money Changing Marketplace
iChange touts itself as the world's first money changer marketplace.
With iChange, you get a one-stop money-changing marketplace where you can compare rates for any currency from several money changers at a glance and get the best deal without worrying about a hidden fee.
Fast: Exchange currencies with just a click.
Safe: All money-changers are vetted and verified.
Cost-Effective: Best rates, no hidden charges.
Transparent: Choose your rates. Stay in control. No hidden fees.
iChange allows you to store foreign currencies in one convenient location, eliminating the risk of carrying cash when you travel.
Local Transfer: Send money to a friend locally (in Singapore) via wallet or Paynow
QR Payment: Make instant payments by scanning QR at stores
Topup: Top up conveniently using PayNow or at any 7-Eleven Stores
Make Payments Worldwide With the iChange MasterCard
You can spend your money in the multi-currency wallet anywhere in the world using your iChange Card.
Online Payments: One card for all expenses anywhere in the world
In-store Payments: Enjoy cashless payments in-store
ATM Withdrawals: Withdraw currency from any ATM
Apple wallet & GPay support
Make Remittances With Full Transparency
Send money to most countries with 100% transparency with just a few clicks. Enjoy home delivery services in selected countries.
Bill Payments
Support family and friends overseas with instant top-ups, recharge, payment of utility bills like power, telecom, healthcare, insurance and more…
Frequently Asked Questions (FAQ)
The FAQ for iChange can be found here.
Listing down answers to some important questions below.
Where is my money stored?
iChange funds are deposited into an account held with the DBS Bank Limited by SLIDESG PTE LTD, a Major Payment Institution approved and licensed by the Monetary Authority of Singapore under the Payment Services Act and is subject to MAS oversight.
Customer funds are stored independent from iChange accounts in a safe and regulated manner.
How much does it cost to withdraw cash from international ATMs?
Withdrawals at international ATMs are charged at $5 per withdrawal.
Note: apart from the $5 fee per withdrawal, the ATM provider may also charge you an additional fee for using their ATM.
Are ATM withdrawals allowed within Singapore?
ATM withdrawals are not permitted within Singapore. Please consider alternative methods for accessing cash while in Singapore.
What is the maximum amount I may add to my account using PayNow?
Depending on the account you opened with us, your top-up limit may vary. You are able to top up your account with up to SGD $1,000 if you are an unverified user. The maximum top-up amount for verified users is SGD $5,000.
Experience sharing
Better rates than Google or banks
I observed the rates on iChange are better than Google or banks. Not sure if it holds true for all currencies but here are some examples:
Australian Dollars (25 Oct 2023)
iChange: 1SGD -> 1.1609 AUD
Google: 1SGD -> 1.14 AUD
Japanese Yen (25 Oct 2023)
iChange: 1SGD -> 110.6409 JPY
Google: 1SGD -> 109.61 JPY
Malaysian Ringgit (25 Oct 2023)
iChange: 1SGD -> 3.5350 MYR
CIMB bank: 1SGD -> 3.4907 MYR
Google: 1SGD -> 3.50 MYR
South Korean Won (25 Oct 2023)
iChange: 1SGD -> 992.2279 KRW
Google: 1SGD -> 983.63 KRW
Taiwanese Dollar (25 Oct 2023)
iChange: 1SGD -> 23.8295 TWD
Google: 1SGD -> 23.63 TWD
Thai Baht (25 Oct 2023)
iChange: 1SGD -> 26.7083 THB
Google: 1SGD -> 26.40 THB
Exchanging money at 1 SGD to 3.523 MYR! (24 Oct 2023)
Using the currency exchange function in the iChange app is very intuitive and actually fun! Check out the video I recorded for my first attempt using my wallet balance.
I thought the MYR would be credited into my wallet balance immediately but this was not true.
I had chosen the money changer offering the best rate of $1 SGD to $3.523 MYR, and all the iChange app did at this stage was to help submit an order request to the money changer selected.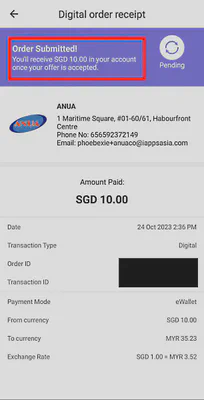 It was only about an hour later that the transaction was confirmed and my wallet balance was credited with $35.23 MYR.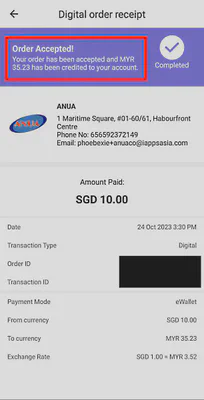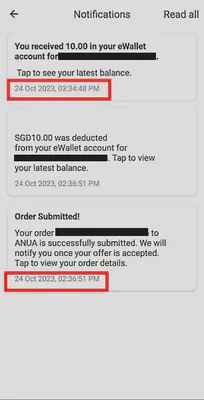 I find iChange's money exchange marketplace feature attractive; as I got to compare rates from various money changers in real time and completed a transaction all in the comfort of my chair.
I would certainly continue to use this feature to accumulate foreign currency for my travels!
Exchanging money at 1 SGD to 112.64 JPY! (15 Nov 2023)
I read in the news that the Japanese Yen might strengthen in 2024, and is currently near its weakest against the Singapore dollar since 1985 earlier this month (Nov 2023).
Unlike my previous experience of changing SGD to MYR, this exchange transaction was immediate.
The rate I got was 112.64 while the rate on Google was only 111.74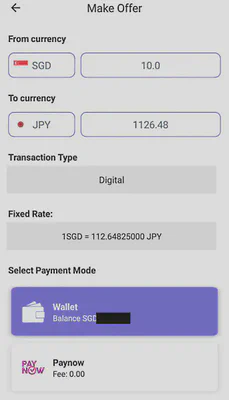 Receiving my physical iChange card after 3 weeks
I signed up on 23 Oct 2023 and received my iChange card on 13 Nov 2023.
I feel it is a rather long wait, maybe due to an influx of sign-ups during the launch period. Hopefully your wait time is shorter.