H&M (Singapore) Referral Promotion
We create value for money, making a sustainable lifestyle accessible for everyone.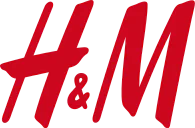 Note: referral link shared here is only valid for H&M (Singapore).
New H&M (Singapore) account members receive a 10% discount coupon. Thereafter, receive 75 points for each friend you refer.
Terms and conditions apply.
Sign up with the H&M (Singapore) referral link.
Table of Contents
What is H&M?
Founded in 1947, H&M is a multinational clothing company based in Sweden that focuses on fast-fashion clothing for anyone.
Fun facts about H&M

H&M is the second largest international clothing retailer.
Did you know that H&M stands for Hennes & Mauritz? Hennes translates to "hers" in Swedish, and was the name of the company's first store. The company then became H&M after it acquired "Mauritz Widforss"; a hunting apparel retailer.
H&M Membership
The H&M Membership is a digital loyalty programme where you collect points with every purchase, both in store and online. When collecting points, you unlock special offers, rewards, exclusive event invitations and much more.
Point collection
Members can earn points in various ways like:
1 point: per $1 worth of purchase
10 points: bringing your own bag when you shop in-store
40 points: completing membership profile
40 points: recycling garments
75 points: inviting friends to become members and have them completing their first purchase
What good are the membership points for?
Points can help you to advance to the Plus tier (400 Points required) to enjoy additional benefits.
Also, for every 150 points collected, one SGD4 Bonus Voucher will be unlocked. This voucher is valid both online and in-store.
What good is a Plus tier member for?
Check out the comparison table for the benefit difference between the membership tiers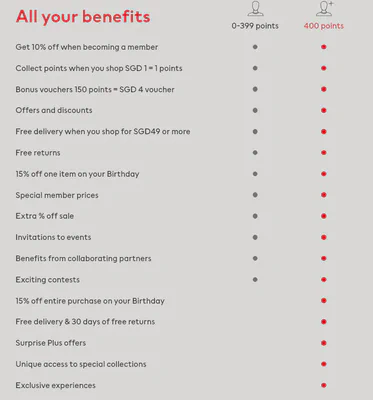 How long does the Plus tier last?
Once you unlock the Plus level, you will keep the Plus member status for the remainder of the current membership year as well as the entire membership year that follows. Your Plus membership expires only if you collect less than 400 points within one full membership year.
Birthday Benefits