Endowus Refer a Friend Promotion
Grow all your money

Special Promotion: till 15 Sep 2023 (promotion period was extended)
To celebrate the milestone of raising an additional US$35 million in a funding round in August 2023, Endowus is upsizing the referral bonus.
Receive a $50 Access Fee credit instead of the usual $20, when you sign up with Endowus with the referral code: I4WOP or referral link, and invest a minimum of $1,000 by 31 August 2023 15 September 2023.
Customers who have previously signed up but have yet to make any investment can also enjoy the upsized benefit, if they create their first investment of minimum $1,000 by 31 August 2023 15 September 2023.
Table of Contents
About Endowus
Endowus is Singapore's fee-only wealth platform and the first digital advisor for all your money - Cash, CPF & SRS.
Endowus is regulated by the Monetary Authority of Singapore (MAS) and I believe they are currently the only platform that allows clients to invest their CPF funds.
You can learn more about Endowus from their Youtube channel.
Here is a video from their channel which discusses why you should choose Endowus:
Expansion into Hong Kong
Hong Kong is Endowus' first overseas expansion market after Singapore
In October 2022, Endowus completed the acquisition of a majority stake in Carret Private Investments Limited ("Carret"), a Hong Kong-based independent wealth manager and multi-family office, establishing Endowus as one of the largest independent wealth managers in Asia with over US$4 billion in combined client assets.
In April 2023, Endowus announced that they have officially launched in Hong Kong! This makes Endowus the territory's first fee-only, non-commission-based digital wealth management and fund platform.
Credentials
Awards:
Asia FinTech Awards 2021: WealthTech of the Year
Singapore's Best of the Best 2021: Fintech Innovation in Asset Management (awarded by Asia Asset Management)
Singapore's Best of the Best 2021: Singapore Rising Star (awarded by Asia Asset Management)
Entry in Forbes Asia "100 to Watch" list [2022]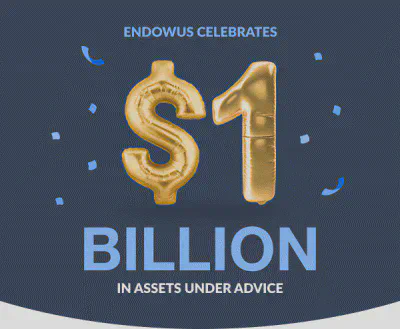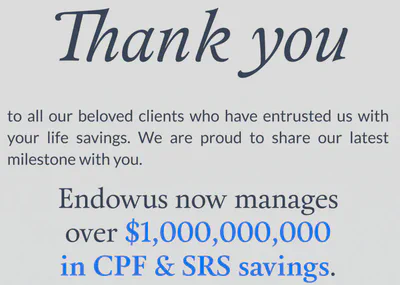 Investors
Raised US$35 million [Aug 2023]

new investors include Citi Ventures and MUFG Innovation Partners
brings the company's total raised so far to $95 million

Raised an additional S$35 million in funding [Nov 2021]

bringing total funding in year 2021 to S$67 million (US$50 million) [Nov 2021]
Unique Selling Points
Access to institutional share class funds
The institutional share class carries the lowest fees (total expense ratio) of the different share classes of a particular fund. Because of its lower fees, the institutional share class inevitably generates the highest returns of the different share classes.
Unfortunately, there is usually a high minimum investment amount (e.g. $10,000,000) required to invest in the institutional share class. Thus, the institutional share class is usually targeted towards pension funds, hedge funds or large family offices.
Endowus provides their clients access to institutional share class funds.
Check out Endowus' blog article to learn more on this topic.
CPF and SRS investment support
Endowus is one of the rare approved platforms that lets you invest with your CPF-OA and SRS account balances.
Fee-only financial advisor | No sales charges or transaction fees
"At Endowus, we believe in transparency and alignment. That's why we're the first and only digital wealth advisor and fund platform to refuse all trailer fees and instead return them as 100% cashback to our clients."
In an industry-first practice, Endowus rebates 100% of trailer fees received from fund managers to clients as cashback. As of April 2022, Endowus has returned more than $2 million in cashback (trailer fee rebates) to clients.
As a fee-only financial advisor, Endowus charges clients an Access Fee based on the daily average total assets under advice (AUA) and portfolio type on a quarterly basis.
What are Trailer Fees?

Trailer fees are recurring sales commissions that fund managers pay to distributors to sell their funds (which can lead to an obvious conflict of interest).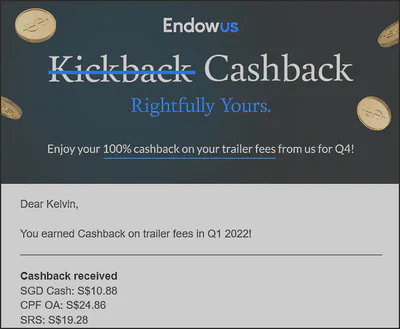 Support multi-currency deposits and conversions
Endowus is able to support multi-currency deposits and conversions (for up to six currencies: USD, AUD, CHF, EUR, GBP, SGD), which means that clients can invest in non-SGD-denominated funds from leading fund managers.
Product offerings
ESG sustainable investing
You can now gain unique access to the best ESG, sustainable and climate funds for both equities and fixed income from the top ESG fund managers. Exclusively on the Endowus digital wealth platform at the lowest cost.
Endowus has recently started offering ESG sustainable investing which piques my interest! They held a webinar on 17/3/2021 where the following points were covered:
Why ESG investing matters to us
Key concerns around ESG investing
Existing ESG investing offerings and their limitations
Endowus' approach to ESG investing
You can watch a replay on Youtube:
It was mentioned that this will be a series of three webinars and I am looking forward to the next one.
Amundi lowest cost passive index funds
"Endowus is excited to announce the cheapest way in Singapore to invest in passive index funds for exposure to global equities and fixed income. The fund-level fees range from 0.05% to 0.20%, and are the lowest in cost in Singapore"
In 2022, Endowus worked closely with Europe's largest index fund manager to introduce the Amundi Passive Index Funds, exclusively available on the Endowus Fund Smart platform.
These four unit trusts are now available in SGD through its tax-efficient underlying UCITS ETF structure, and are today cheaper than the ETFs currently available on SGX. As of June 2022, these unit trusts are available for SGD investments in cash and from SRS accounts.
A webinar was held on 17 June 2022 to discuss:
An introduction to the four new Amundi Passive Index Funds on Endowus
How and why these unit trusts are the cheapest ways to invest in passive index funds out of Singapore
How unit trusts can be cheaper than ETFs
Why Endowus Fund Smart is now, on average, the most cost efficient way to buy unit trusts in Singapore
The differences between the Endowus core advised portfolios and these new passive index funds
In March 2023, Endowus introduce two Amundi low-cost passive index funds for investments using CPF OA monies. They are the Amundi Prime USA Fund and the Amundi Index MSCI World Fund.
A webinar was held on 31 March 2023 to promote awareness of this offering. You can watch a replay on Youtube.
These are the lowest-cost funds on the CPF Investment Scheme, with total expense ratios (or fund-level fees) of 0.05% and 0.10% respectively. That makes them cheaper than all exchange-traded funds (ETFs) on the Singapore Exchange as well as most UCITS ETFs.
I also found a discussion on the Amundi Passive Index funds on Hardwarezone forum.
About Amundi

Amundi is the largest European index fund manager and manages more than US$2 trillion globally. [2022]
Learn about finance and investing
As a digital advisor, creating engaging and relatable — yet informative and educational — content is crucial for us to help our clients manage and invest their money better.
Endowus has been actively creating finance and investment related content and sharing them on various platforms:
Articles: Endowus Insights (content hub is also accessible from Endowus app)
Emails
My personal experience
I have heard about Endowus for quite awhile, but their minimum investment of $10k was a prohibitive factor for me to try them out.
So I was glad there was a recent promotion that lowered the minimum investment to $888 and I promptly opened an account.
[Update 1 May 2021]: Endowus has officially lowered their minimum investment amount to $1,000 from $10,000.
I signed up over the 2021 Chinese New Year period so it might have contributed to the long time it took for my account to be approved. A UOB Kay Hian trust account was created to hold my assets.
What is the relationship between UOB Kay Hian and Endowus?

When you create an Endowus account, UOB Kay Hian will open an execution and custodian (for cash and investment assets) account in your name. This ensures the safety of your cash and securities, as all your assets are custodised in a segregated account under your name with UOB Kay Hian.

If you decide to close your Endowus account, your UOB Kay Hian account will automatically close after you have withdrawn all the investments from your Endowus account.
I have started off with a cash investment of $1000 and hope the performance will convince me to invest my CPF funds as well.
Cash Funding
After watching the ESG webinar, I decided to start a portfolio for ESG investment and transferred money on a Friday. The funds were received into my Endowus account on the following Monday.
CPF Investing
I decided to create a portfolio to invest my CPF on 15 April 2021. I used the Endowus app to create the portfolio and specified to use my CPF as the funding source.
As I already have a CPF Investment Account (CPF-IA) with OCBC, the funds from my CPF Ordinary Account (CPF-OA) were pulled out automatically the next business day to create the portfolio.
Key points about investing my CPF with Endowus:
Fees
Access Fee: paid to Endowus which includes access to the underlying products used, investment advice, portfolio creation and rebalancing, brokerage, and transfers. For CPF investing, this all-in transparent fee is 0.40% per annum including GST.
Access Fees are charged on a quarterly basis based on daily average total assets under advice (AUA) for the period of the fee.
It will be deducted directly by redeeming from investment holdings. Access Fees for CPF and SRS portfolios cannot be paid for with cash.
Fund-Level Fee (fund total expense ratio): charged by the fund manager out of the underlying fund Net Asset Value (NAV). Endowus will rebate 100% of trailer fees
Agent Bank Charges: charges levied by the Agent Bank of CPF Investment Account (DBS, UOB, OCBC)
What are trailer fees?

Trailer fees are kickbacks that financial advisors, fund platforms, brokers and private banks can receive when they sell you an investment product. This is on top of other fees and sales charges they may earn from you.
Redemption
No transaction fees or penalties
Redemption orders takes approximately 3 business days to execute. It will then take an additional 7 business days to be remitted into CPF Investment Account. Can then request for the agent bank to transfer the funds back to CPF-OA at any time.
SRS Investing
I created my SRS account in Dec 2021 to lock-in the retirement age at 62 before it increases to 63 in 2022.
I decided to invest my SRS funds through Endowus, as the performance of my cash and CPF investments have been encouraging.
Recommended portfolio changes
Endowus conducts regular reviews to its offerings, and will recommend improvements to my investment portfolios to optimise returns.
Email extract from one Recommended Portfolio Change (RPC) instance in April 2023:
Endowus is recommending a portfolio upgrade for your General Investing - Core - CPF with your CPF OA account.

With several Amundi passive index funds being made available for CPF investing on the Endowus platform, Endowus is recommending changes to the equities component of the Flagship CPF Portfolios.

These changes, if taken up, will provide clients with a lower cost of investments and lower tracking error to respective benchmarks. There are no recommended changes to the fixed income component of the Flagship CPF Portfolios at this time.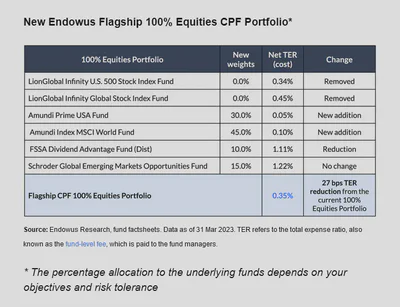 The recommendation helps me to save 27 basis points from the expense ratio yearly.
Do note that accepting these recommendations based on Endowus' research are optional. Investors are free to remain on their current fund allocations.