Dash Referral And New User Promo
All-in-one mobile wallet for your payment and lifestyle needs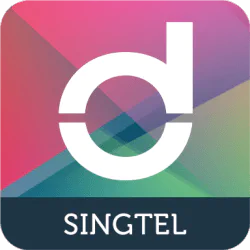 Validity period: till 30 Jun 2023
Table of Contents
What is Singtel Dash?
Singtel Dash is Singapore's first all-in-one mobile payments solution. Enjoy the convenience of paying with your mobile phone for your daily commute, to shop and send money both locally and overseas.
Topping up Dash
Various options are available to top up your Dash wallet:
Dash PET
Bank account
Credit/Debit card
OCBC Pay Anyone
PayNow
Cash-in QR (Sheng Siong, SOCASH)
Key features of Dash
Attractive forex rates
With VIA™, enjoy 0% transaction fees, competitive foreign exchange rates and view in Singapore dollars before you pay.
Deals
Enjoy special deals at partner merchants when you pay by Dash.
Dash Entertainer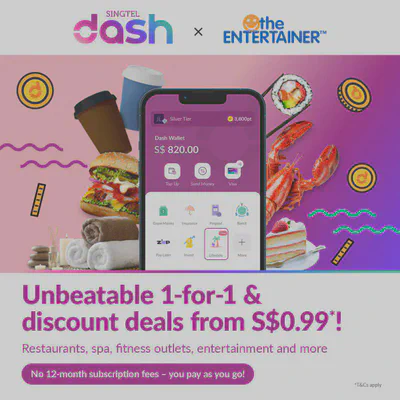 In July 2022, Dash launched the Dash Entertainer, a lifestyle service offering a selection of 1-for-1 & discount deals.
Unlike competing service Burrple Beyond, Dash Entertainer doesn't require a subscription and users only need to pay a small amount for 1-for-1 deals that they wish to utilize.
From the Dash app homepage, users can tap on the 'Lifestyle' tile > 'Dash Entertainer' to view all deals.
The concept is interesting but my first impression was rather disappointing. When I tried browsing the deals on 25 July 2022, the response of the user interface was awfully slow. Hopefully, the development team can fix the performance issue soon.
Dash PET by Etiqa Insurance
Earn high returns, without the multiple criteria. Choose Dash PET by Etiqa for your stress-free saving option.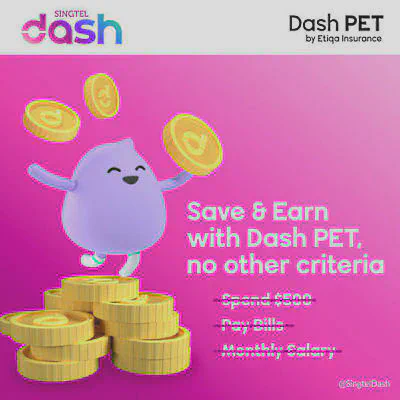 Dash PET is not a bank account or a fixed deposit. It is an insurance savings plan that earns a crediting interest rate. This policy is underwritten by Etiqa Insurance Pte. Ltd. (Company Reg. No. 201331905K).
Benefits include:
What you save is capital guaranteed
No lock-in period with full flexibility to top up or withdraw anytime
No "fall-below" fees to maintain your policy
Free COVID-19 and life protection
Dash now also offers Dash PET Plus which is an Investment-Linked Plan (ILP) add-on to Dash PET. Launch the latest Dash app to start saving today or visit dash.com.sg/dashpet to learn more.
Pay Singtel mobile bills and receive bonus data
Use Singtel Dash to pay your Singtel bills to get an extra 1GB of data every month.
Remittance
Dash lets you send money to the Thailand, Philippines, Indonesia, Myanmar, India, Bangladesh and China.
Real-time transfers to Thailand
As of late November 2022, users can perform real-time transfers to 16 banks in Thailand, and recipients can receive the money almost instantly.
Transport
You can pay for your daily commute by tapping your phone against the fare reader.
Visa Virtual Account card
Use Dash to make online, in-store and mobile payments with Dash Visa Virtual Account card
Zip Buy Now, Pay Later (BNPL)
PSA: Beware of illegal activities
Keep your account safe. Never facilitate fraud and money laundering by being a money mule.
Stay away from deals offering to purchase your account.
Never let someone else access or watch you access your account.
Don't make payments on behalf of another person.
Never share login details of your account with someone else.
---