Crafti Refer A Friend Promo
Helping you feel good, and live fully, through better health.

Get 1 week supply of Ceremonial Uji Matcha Powder with purchase of a starter kit when you sign up with Crafti via the referral link.

When I signed up, I also received 300 Vitaliti Credits, which can be used to offset your order at a rate of 100 Vitaliti Credits = $1
From now till 31 December 2023, Crafti is also having a "Great Crafti Giveaway" campaign where the top prize is a pair of return flight tickets to Japan on Singapore Airlines (worth $2400).
Check out the full details and other prizes at the official campaign page via the button below and get extra 1000 chances in the draw!
Table of Contents
About Crafti (formerly Craft Tea Fox)
Crafti creates products that are:
crafted by people, not machines

made by artisan farming communities in Japan, using traditional techniques passed down over generations.

crafted in small batches

Crafti works with family-owned businesses, supporting local artisans who know exactly what goes in your tea.

crafted with intention, for health and wellness

modern organic farming, decaffeination and extraction techniques are employed to create better products
certified organic by Japanese Agricultural Standards (JAS)
regular third-party lab screening is conducted for detection of heavy metals, radiation, microorganisms, and additives

certified Halal by the Japan Muslim Association but not yet certified in Singapore.
You can visit Crafti's YouTube channel to learn more about the tea products from the production to the brewing process.
As of October 2023, I see that Crafti offers:
Matcha
Hojicha
Digestive teas
Crafti also shares on it website that its products are used by brands like:
30-Day Feel Good Guarantee
Crafti is confident in their products. If you are not happy with the purchased product, you could get a full refund within 30 days.
Delivery and shipping costs
Shipping is free within Singapore for orders $20 or more.
Delivery usually takes between 2-4 working days (within Singapore), or 3-21 working days (international orders). Express delivery is also available in Singapore at an additional cost.
Experience sharing
Expiry date
I ordered in November 2023 and the matcha powder I received had an expiry date in August 2024.
How to store the matcha after opening?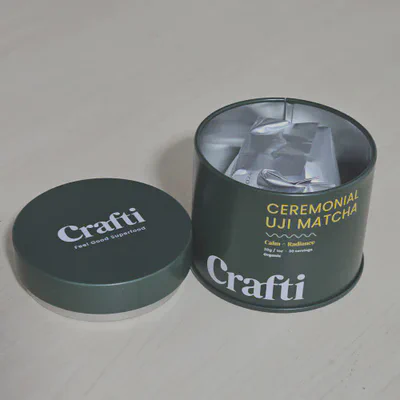 My order arrived in the form of a metallic tin and the matcha powder in foil packaging. I wasn't sure if I was supposed to empty the contents into the tin and wrote an email to Crafti.
Here is their response:
Thanks for reaching out!

It's perfectly fine to pour the matcha powder into the metal tin for easier scooping.

We also recommend storing matcha in the refrigerator even unopened due to the tropical weather climate we have in SEA!

Hope this helps! If there's anything we can assist you with, feel free to reach out to us!

Best, Crafti Team