Chope.co Referral Code: hTr2T (Get 300 Chope-Dollars)
Book, discover, save. We're on a mission to connect restaurants and diners through discovery, reservations, and deals.

Register via the referral link and fulfill your first reservation to earn 300 Chope-Dollars. Terms and Conditions apply.
What is Chope.co?
CHOPE \chōp\ transitive verb (Singapore slang): to reserve, such as a seat in a fast food restaurant, by placing a tissue pack or paper on it.
According to Wikipedia, Chope was found on June 15, 2011.
Chope helps busy diners make instant reservations at Singapore, Hong Kong , Shanghai, Beijing and Bangkok, Bali and Jakarta's best restaurants: 24 hours a day, 7 days a week.
Features of Chope app?
Coupon deals via ChopeDeals. e.g. 1-for-1 bubble tea at Gong Cha
Dining reservations
Food delivery and self-pickups via 'Chope On'

both hawker and restaurant selections available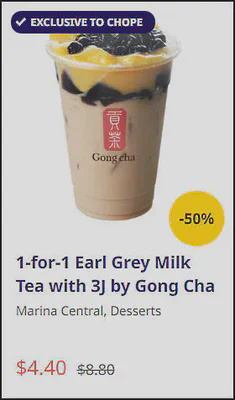 What is ChopePerks
This is the name of the Chope loyalty programme and the points are called Chope-Dollars.
You can earn Chope-Dollars whenever you complete a reservation. The rate of earning Chope-Dollars vary with each membership tier.
Diners can use their Chope-Dollars to redeem for vouchers from ChopeDeals and rewards from a list of restaurants and partners.
Contacting Chope
If you need further assistance, Chope can be reached via customersupport@chope.co