Prosperus by CGS-CIMB Referral Code: OCWIGLI
Digital investment service allowing access to multiple asset classes across global markets

Sign up with Prosperus by CGS-CIMB via the referral code: OCWIGLI or referral link.
For new Prosperus by CGS-CIMB users:
receive S$38 Cash Credit when you make an initial deposit of SGD3,000 with holding period of 60 Days
receive S$88 Cash Credit when you make an initial deposit of SGD10,000 with holding period of 60 Days
enjoy promotional commission rates on the Singapore Exchange
free level 1 market data subscription for US stocks
Terms and conditions apply.
BONUS: Earn ProsperUs Rewards points when you refer others after signing up.
Table of Contents
About Prosperus by CGS-CIMB
ProsperUs was "born" in Nov 2020, with the brand name a deliberate play on the words "prosperous" and "prosper with us". It embodies our investing ethos of building long-term sustainable wealth."
ProsperUs is a digital investment service that allows you to gain access to multiple asset classes across global markets. With just one account, you can invest anywhere around the globe and the clock.
CGS-CIMB has had a long history and heritage in the capital markets, starting over 40 years ago in 1979 as GK-Goh Securities, and evolving today into a leading regional financial services provider.
What does CGS stand for?
CGS is an acronym for China Galaxy Securities.
Corporate Social Responsibility (CSR)
Check out the Prosperus by CGS-CIMB CSR page.
Change for Charity | Donations matched by both the Singapore Government and CGS-CIMB
The Change for Charity programme, a nationally-backed initiative, aims to promote a culture of giving, where donating becomes a part of our everyday life.
CGS-CIMB has a partnership with Community Chest which aims to further the spirit of altruism and bring sunshine to those who need it most.
Donating to the Community Chest seems to provide maximum value for our dollars!
donations matched by both the Singapore Government and CGS-CIMB (subject to operating provisions)
donations will be eligible for 250% tax deductions.
Fees Pricing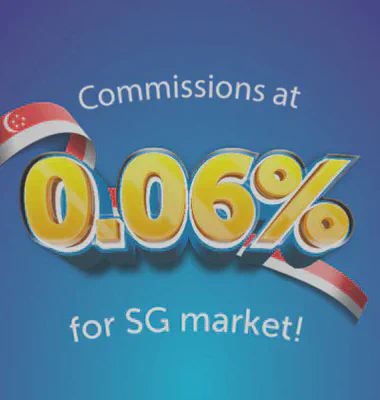 Check out the fees applicable for the various investment products here.
Why choose Prosperus?
Wide global market available
There are many online brokerages in the Singapore market but most of them focus on the Australia, China, Hong Kong, Singapore and US markets.
For Prosperus, apart from supporting stock trades in China, Hong Kong, Singapore and US markets, investors can also participate in bonds, ETFs and mutual funds in the wider global market.
For example, it allows me to build up a portfolio in highly rated ETFs trading on the London Stock Exchange:
iShares Core MSCI World UCITS ETF (IWDA:xlon)
Vanguard FTSE All-World UCITS ETF (VWRA:xlon)
ProsperUs Rewards
Launched in January 2023, ProsperUs Rewards is a loyalty programme. Clients can earn 3 reward points with every dollar of commission paid.
As of October 2023, rewards points can be used to redeem:
redeem insurance coverage on the SNACK by Income platform.
Ryde subscriptions

Check out the Ryde referral post.

SGX Level 2 market data subscription
Educate yourself on investing
SGX's Online Education Programme
I would strongly recommend you register a FREE account with SGX's Online Education Programme and complete the basic courses first if you are new to investing.
London Stock Exchange: A Cheat Sheet for New Investors
"The exchange operator is itself listed – as London Stock Exchange Group PLC (LSE: LSEG) – while London's stock market is one that hosts many "old economy" stocks, such as oil & gas companies, banks and tobacco firms."
Blog article by Prosperus for new investors interested in buying stocks listed on the London Stock Exchange.
Staying safe from scammers
Be wary of scams that can take place in the form of online stock recommendations from unofficial sources or informal chat groups.
Scammers might impersonate real people from genuine financial services firms to tempt you into investing in any recommended stocks/investment products. Some scammers might use spoofed or unofficial social media accounts to spread and disseminate false information.
You can protect yourself and others by observing the following:
Change your privacy setting in your messaging apps to prevent others from adding you to random investment chat groups.
Be wary of stock tips/ recommendations from unofficial sources (e.g. Social Media platforms/Messaging App)
Do your research before investing in any investment product
Check the credentials of the supposed company or representatives using sources such as MAS Financial Institutions Directory, Register of representatives and Investor Alert List.