Tips, Tricks, and Hacks For My Melbourne Trip (2022)
Getting the best value for every dollar using some of the services covered on sgreferralpromo.com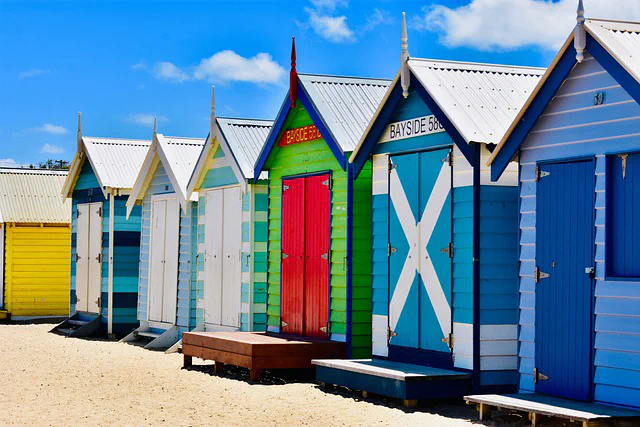 Table of Contents
In November 2022, I finally embarked on my first overseas trip since COVID-19 started. I was paranoid about getting infecting on the plane and wore N95 masks for the entire duration of my flights (7.5 hours one-way).
Blogging about Melbourne, Australia trip in general, and how to get better value for your dollars.
Services with sign-up/referral benefits
Booking accomodation
Hotwire
I used Hotwire to book a 5-star for my stay at heavily discounted rates.
Steps:
reserve a stay that allows for free cancellation first as a fallback plan
search for a deal on Hotwire.com for a 5-star hotel
reserve a deal on Hotwire app
cancel fallback accommodation
I made a mistake during my booking, selecting a king bed instead of twin beds. The customer service from Hotwire was exemplary as they called the hotel in Melbourne to help resolve my issue.
Tips:
use revealhotels.com to guess what the Hotwire hotels are
Hotwire states that better prices can be obtained by booking from the Hotwire app, but it is geographically restricted on Google Play, preventing installations by Singapore based users.

workaround: I used apkmirror to download a Hotwire app APK to side-load onto my mobile
thereafter, I saved money by utilizing a coupon code applicable to the Hotwire app only; and also enjoyed slightly better daily rates from the app.
word of caution: I couldn't see my bookings from the side-loaded Hotwire app, and had to fallback to the web browser version to see my booking.
I landed myself a 5-star hotel from Accor, and learnt upon check-in that Accor does not credit hotel loyalty points to bookings made via Expedia (Hotwire's parent company).
Transport
Flybus
Tip: I used Klook to pre-book my Flybus rides at cheaper than walk-in prices.
Leg 1: Melbourne Airport to Southern Cross Station (CBD area)
Upon exiting the baggage collection area at Terminal 2, turn left and walk out for the Flybus station.
The Klook voucher QR code is the Flybus ticket itself. Let the Flybus staff scan it and you can board. There is no need to use the Klook app to exchange for a physical ticket.
Leg 2: Southern Cross Station (CBD area) to Melbourne Airport
luggage storage is available at Southern Cross Station if you wish to move around after checking out from hotel.
Driving in Melbourne
My impression of driving in Melbourne:
roads are not as well marked as Singapore and gets confusing at times.
'hook turn' in Melbourne is tricky for people not familiar with Melbourne traffic. I avoided roads running in parallel with trams where possible.
it is stressful to be driving on a single lane road with a whole line of cars behind you, especially when you are unfamiliar with the roads, or want to driving slowly to take in the view.
daylight is till 8pm in November which is good especially if you are driving out of the city. When it gets dark, there is a higher chance of wild animals crossing the roads, which is dangerous for both the animals and the driver. Try to avoid dusk and dawn hours where possible.
Things to research prior to driving:
does Melbourne allow discretionary right turn?
how to do hook turn
how does traffic light signals for trams look like.
how to read parking instructions signs. E.g. 1P, 2P …
Car rental
I procrastinated till the last minute and no small cars were available by then at my desired car rental pickup point. I had to settle for a large car which was hard to manoeuvre, and made street side parallel parking even more challenging.
The car rental company I used charges a $75 AUD administrative charge for each parking or traffic fine, which in my opinion is blatant profiteering. I wouldn't have rented from them if I had known in advance. Luckily I didn't receive any fines.
Within the Melbourne CBD area, it is more convenient to use the free city trams to move about. Or just walk. Parking is scarce and ridiculously expensive.
Parking app
I used the mobile app EasyPark to pay for parking at Queen Victoria Market.
Petrol grades
One particular petrol kiosk that I visited didn't specify 91, 95, 98. I found out later that 'Unleaded' meant 91, and 'Unleaded Premium' was 95.
Public transport
The easiest way to get around on public transport is to use Mobile Myki (like Singapore's Ez-Link).
Setup steps (for Android with NFC capabilities):
Install 'Google Wallet',
Tap 'Add to Wallet'
Select 'Transit Pass'
Search for 'Myki', and follow steps
Notes:
2 hours of unlimited travel costs $4.60.
I used Myki to travel on the train between Southern Cross Station and my hotel; which was located just outside the free tram zone.
Can I refund the balance in Mobile Myki?
From the FAQs: If you use an international Mastercard/Visa card to purchase and top up your Mobile myki, you'll have to visit the PTV Hub at Southern Cross Station to request a refund. Refunds cannot be issued for less than $5.
Shopping
Instarem amaze card
Card payment are acceptable practically everywhere in Australia. I didn't spend a single cent of the Australian cash I brought along.
I mainly used Instarem's amaze card for my expenses. By binding a Mastercard to my amaze card, the amaze card acts like a proxy card to the underlying card.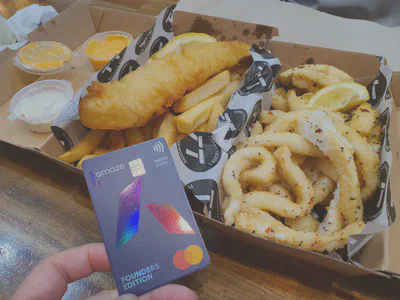 The advantages of doing so:
I can earn cashback/points from the underlying Mastercard
I earn Instarem points at the same time at 1 point per dollar spend. Instarem points can be converted back to wallet balances for spending or used to offset remittance fees.
Instarem converts the AUD transaction into SGD at favourable rates before charging to the underlying MasterCard, helping to avoid the foreign transaction fee imposed by the underlying bank.
Kit Kat exclusive flavours exist in Australia?
I bought Kit Kat bars with flavours 'Dark with Tasmanian Mint' and 'Dark with Southern Australian Orange', thinking they were exclusive to Australia. Found out later that they are available in Singapore too.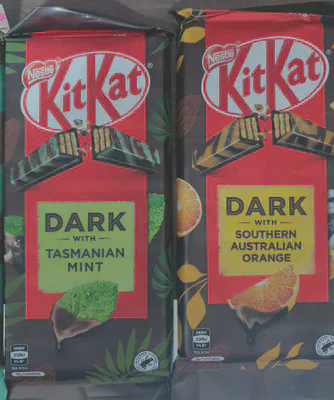 Kmart vs Target
I like Kmart more than Target. The prices are cheaper and the quality of the Kmart house brand apparel feels good.
Touring
Dandenongs Ranges
Puffing Billy train ride
Notes:
really wanted to try this but it was really popular and sold out.
don't procrastinate and book early via Klook if you are interested
Karwarra Australian Native Plant Gardens
Free entry. Good for a 10-15 minute walk.
Tourist road
Notes:
Not a bad drive. Quite scenic.
If coming from north end, Hahndorf's Fine Chocolates is a good rest stop after the taxing drive from Melbourne CBD.
Botanic gardens worth stopping over for a walk. 1+ hour should be good enough
Great Ocean Road (GOR)
In visiting order. Less crowded on weekdays.
Chocolaterie and Ice-Creamery (GOR) branch
Notes:
free chocolate samples
what left the greatest impression on me was the scoop size of their ice creams. A two scoop cup is probably equivalent to four scoops in Singapore. Definitely value for money. Went again to the Yarra Valley branch because of this.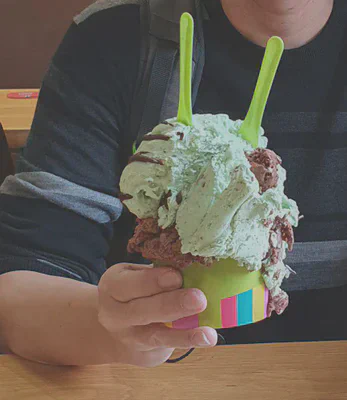 Apollo Bay
Apollo Bay Fisherman's Co-op
Notes:
paying for the experience of dining beside the harbour area. $65 for 2-pax platter.
don't come with expectations of having super cheap seafood.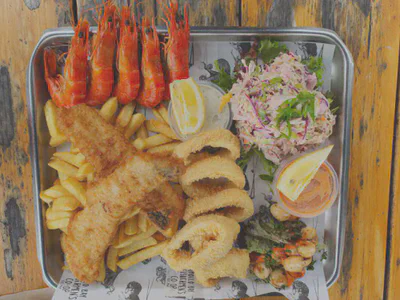 The Scallop Pie
Notes:
Tried the scallop pie. It was good and worth trying once.
only 'Scallop & Curried Leek Pie' was available by the time we visited in th early afternoon
frozen pies are available too.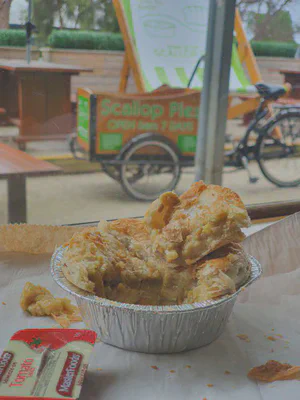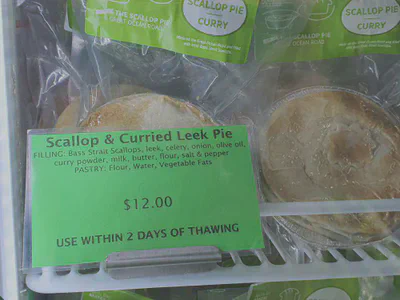 Gibson Steps
Notes:
first time visiting here in my three visits to 12 Apostles.
this is a MUST VISIT in my opinion
you can climb down the steps to the beach area near the Apostles and see them from below.
view is great, and it is more quiet compared to the 12 Apostles.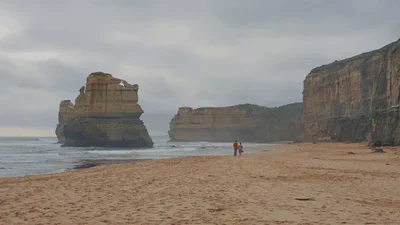 12 Apostles
Notes:
third time here. Arrived during the day and it was overcast and drizzling at times. Still looks beautiful but pales in comparison to viewing at sunset.
there is a sign indicating a path you can walk to Gibsons Steps to go down to the beach to view the Apostles. It is around 1 hour for a return trip.

TIP: After/Before visiting the 12 Apostles, simply drive to the Gibsons Steps carpark which is three minutes down the road, and save yourself the walk.
Geelong
I stopped by at Geelong on the way back to Melbourne as I was exhausted and getting drowsy while driving. Also, it was already 830pm and there wouldn't be many food options available by the time I returned to Melbourne CBD.
I exited M1 highway at Deakin exit. Within a kilometre of the exit, there were:
Supermarkets (Coles and Woolworths)
Kmart
Target
petrol kiosks
F&B
Melbourne CBD and nearby region
Brighton Beach
Popular place and great for a short visit for photo taking
Google Maps might list it as closed but it is a public beach, just park at the residential places nearby. 1 hour free parking easily found.
The bathhouse painted with the Australian flag is the most popular.
In November, the sun sets at around 8pm
Queen Victoria Market (QVM)
Notes:
I feel it is over-rated, but everyone still visits it anyway.
good if you want to purchase souvenirs and T-shirts. Otherwise, I prefer South Melbourne Market (SMM).
unlike SMM, there is no dining area to eat oysters after purchasing.
American Doughnut Kitchen

sold from bus. Advertises 5 for $7.50, but you can buy one for $1.50 also. Tastes not bad
Royal Botanic Gardens
Good for a morning walk if weather is cool. It is FREE entry but gates are locked outside opening hours.
Spencer DFO
Notes:
less options and smaller compared to South Wharf DFO.
has TK Maxx for good discounts on branded goods
South Melbourne Market
Aptus Seafood
Notes:
winner of 2015 Melbourne Market Award
Everyone is queuing up at the main store, but the two stalls nearby (oyster bar, and cooked seafood) are also under Aptus.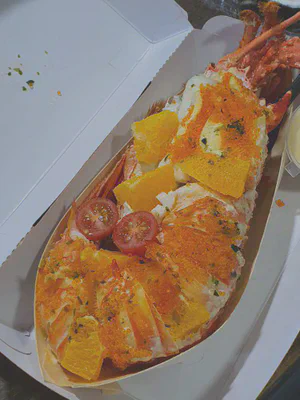 South Wharf DFO
Notes:
parking is super expensive at $12/hour. Buy something at any of the stores to get a 50% discount coupon.
better still, pre-book parking before your visit to enjoy full day rate of $15
Lindt
Bought bar chocolates at the outlet but later realised the exact same products were on sale at cheaper prices at both Coles and Woolworths.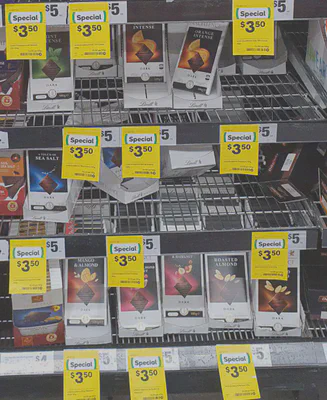 St Kilda
2 hour free parking (2P) available 7am-7pm (Mon-Fri), and 8am-12noon (Sat & Sun) available
Yarra Valley
Cherry picking at CherryHills Orchard (Coldstream Orchard)
Visited on the first day of the cherry picking season (2022). This orchard is relatively new and the trees are quite young. Weather was rainy and cold, and the ground was wet and muddy, so we spent only an hour there. Ponchos were provided for us and overall it was an enjoyable experience.
My mum says it was the highlight of her Melbourne trip as she loves cherries. I recommend to try the delicious cherry flavoured ice-creams available.
Apart from eating on the spot, you can pick cherries to takeaway. The prices of the cherries is much cheaper than in Singapore supermarkets; and you get to pick the best ones yourself. I later bought a hard cooler box from Reject shop and brought back 1.2kg of cherries to Singapore via hand-carry.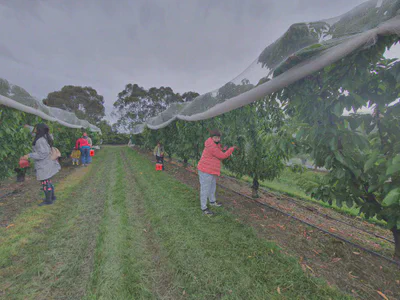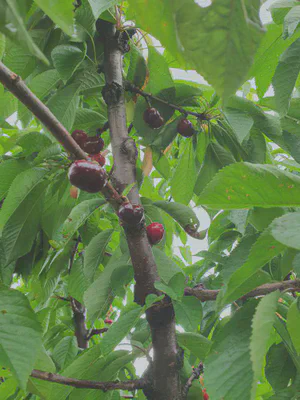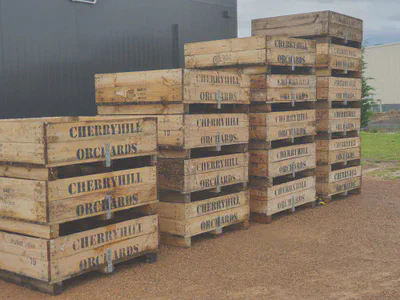 Additional notes:
booked tickets last minute on actual day of visit via official website as it was forecasted to be raining and I didn't want to risk losing my tickets to bad weather.

understood from conversations with the staff that if is raining too heavily, guests will be given an option to return on a later date. Not meaningful for tourists on short visit though.

checkout screen has an option to enter discount codes but I found none available on the internet. Checked with the marketing manager later on who shared that such codes are given to customers for discounts on return visits occasionally.
if you did not pre-purchase the takeaway boxes for cherries you pick, you can pay for them on the spot. I paid $15/kg
cooler bags are available for purchase on-site.
I think you are allowed up to two hours for the cherry picking session
We were amongst the first few at the farm, so there were not many others around.
two rows of cherry trees were opened for us to pick from. The rest were covered in nettings to protect the cherries.
driving from Melbourne took around 1 hour on a Monday morning. We set off 7+ am, which was an overkill, as we arrived at 830am before the check-in counter and cafe were even opened. Traffic wasn't a concern as we were travelling against the morning peak traffic flow of workers commuting into Melbourne CBD.
Yarra Dairy Farm
Notes:
tried the cheese tasting platter, which comprised of 3 goat's cheese and 3 cow's cheese, along with crackers
not everything suited my palate. Don't expect stretchy pizza mozzarella cheese
I wonder if the cheeses are served by random, and if so, I would have asked for cheeses that taste milder.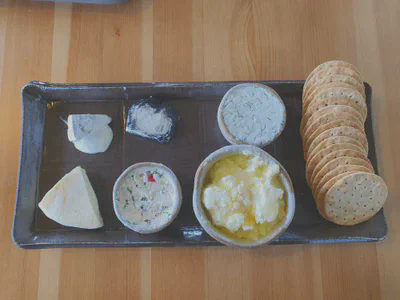 F&B
Even with the stronger Singapore currency, I don't find eating out affordable in Melbourne.
Food Delivery
Deliveroo
We arrived in Melbourne late and reached the hotel at 10pm. Most dining places are closed by then and we walked 1km to the nearest Pizza Hut and McDonald's. Decided on the pizza and the quality was meh.
On the way back, a Deliveroo rider zoomed past us. Out of curiosity, I opened my Deliveroo app and it seems we can use it in Melbourne. I didn't try it though so I am not 100% sure.
Hardware Societe
Notes:
Around 15-20 minutes wait on a Sunday lunchtime
There is a surcharge on Sundays
Food is good but expensive.
Lune Croissanterie
Notes:
Expensive croissants compared to other bakeries.
Tried 3 flavours (almond, marmalade pudding and traditional)
'traditional' is basically plain croissant. Plain but delicious. I liked this and found the other flavours too sweet.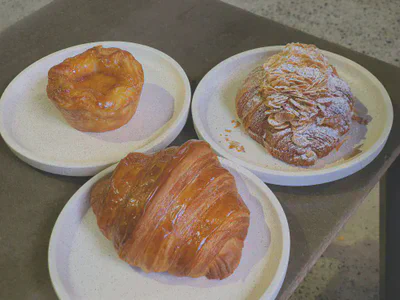 Proud Mary Coffee
Busy and popular even in early morning (1 hour free parking available nearby)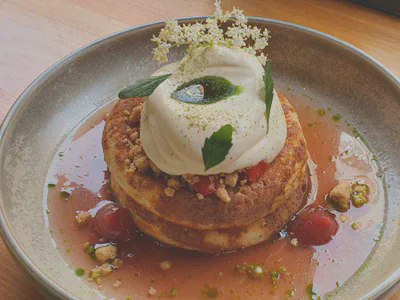 Sushi Hub
Notes:
Nice Japanese sushi chain. Good for takeaways and quick meals. Not expensive.
Have a hard time locating the branch in Melbourne Central station. It is in the lowest basement floor of the mall area just in front of the train station gantries.
The Bagel Shop
walked past when on the way to Melbourne Central station
tried the 'Everything' bagel with cream cheese. Wasn't too memorable.
Flying back to Singapore
Pre-departure supervised ART test
As of November 2022, this was required for non-vaccinated Singaporeans returning to Singapore.
Notes:
booked via Klook for $12.
scheduled timing available is 9-5pm Singapore time. Other providers might have round the clock slots but cost more.
installed the Hidoc app and joined video call at scheduled timing.
I rescheduled my call once via the app because I got my dates wrong.
fuss free and performed ART in front of the witnessing staff. Took about 10 minutes.
received email notification soon after of my certificate to present to the customs officer.
test result valid for 48 hours.
was asked for it at the check-in counter at Melbourne airport
Murhaba airport lounge at Melbourne Tullamarine Airport Terminal 2
located near Gate 9.
presented my Crypto.com Visa Card at reception.
card was swiped and I signed on the receipt. Visit was FREE with no charges to my card.
General Notes
Australia ETA
Singaporeans need to apply for an ETA using the mobile app AustralianETA. My application was approved immediately.
If you are getting a new passport, do apply after receiving your passport as the passport number would have changed.
Check operation times before visits
Do check the operating hours of places before visiting. Even though the daylight hours are long in November, most attractions, markets, and shops still close by 5pm. Weekend flea markets might operate only between 9am-1pm, and not an entire day.
Events
Melbourne is a happening city. There are also lots of event to participate in. Check out the schedule for festivals, specials markets etc.