Crypto.com: Double Bonuses for Fiat Deposits via FAST and Referrals
The World's Fastest Growing Crypto App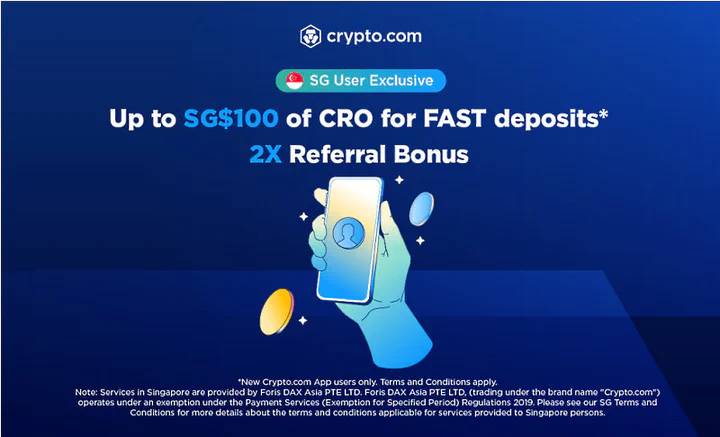 Campaign period: 26 April 2022, 18:00 SGT - 24 May 2022, 16:00 SGT
Note: Campaign is applicable only to new users in Singapore. Users from other regions only enjoy the usual fiat deposit and referral bonuses.
Table of Contents
After more than 6 months, Crypto.com is having a double bonus campaign again! See official announcement on Crypto.com for complete details.
Double Fiat Deposit Bonus: Up to SG$100 of CRO
For the first 5,000 new Crypto.com App users who complete a fiat deposit via FAST, Crypto.com will double the deposit amount by matching it with a bonus of up to SG$100 of CRO.
Steps:
Download the Crypto.com App, register and complete KYC verification for your Crypto.com App account
Register for the campaign
Complete a successful deposit via the FAST network
Complete five trades (buy/sell) of any token in any amount during the Campaign Period
WARNING: Remember to register for the campaign before making any FAST transfer. Enter your own referral code when registering, not our referral code.
Form instructions:
"Please share with us your unique App Referral code to join the campaign (Your App referral code can be found by clicking the Crypto.com logo on the App -> Refer -> bottom left corner)"
Notes:
Only for the first 5,000 new Crypto.com App users
must complete a fiat deposit via FAST
bonus will be based on the first FAST deposit amount
Double Referral Bonus: Get US$50 of CRO for Each Referral
After you signed up, you can refer others to earn up to US$50 worth of CRO, which is double the standard amount.
Please note that your friend must pass KYC Verification, and stake CRO for a Metal Crypto.com Visa Card (Details) for you and your friend to receive your respective US$50 CRO referral bonuses.
Note:
Both the referrer and referee must be Crypto.com App users in Singapore to be eligible for the Double Referral Bonus.
You can use our referral code or link found at the beginning of this post to sign up, to be eligible for this reward.